Add New Depths with the New iPhone 11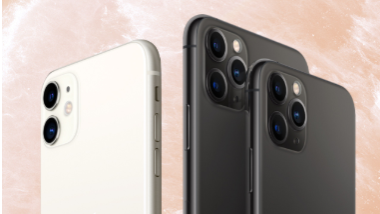 The newest iPhone has finally arrived, and it is available in six different colors. Two being new this generation. There are two versions to this iPhone, the 11 and the Pro. The 11 has a dual camera each lens with 12 megapixel cameras. The new wide sensor has 100 percent focus pixels for up to three times faster than before in auto focus in low lighting. The ultra wide camera captures four times more scene. This is great for taking landscape photos, group photos, things that require a wider frame shot. The new and improved iPhone 11 shoots 4K videos at 60 frames per second. The ultra wide camera is best shooting action shots. For the iPhone 11 Pro, has both of those cameras and the telephoto cameras which allows four times optical zoom range for more framing options.
Sound and video quality have never been better, when you zoom in during a video, the audio zooms too. Apple has introduced Night Mode a new feature that turns on automatically for low‑light photos like you've never seen. There's no need for flash, colors are more natural, and  photos are brighter. Now, with the next generation HDR, thanks to the advancement of technology, HDR recognizes people differently from other objects, focusing on skin tone, shadows, and highlights, making people look more natural. 
Water resistance is now double compared to the XR, being that it is resistant up to two meters in depth for up to 30 minutes. Now the iPhone 11 Pro is double that, it is resistant up to four meters, up to 30 minutes.
Don't wait and Pre-Order yours now!