The Incredibles 2 Review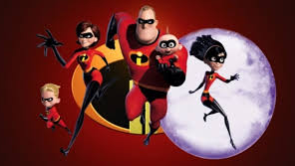 "Incredibles 2" was released on June 15, 2018, it was directed by Brad Bird, and it is one of the best projects Pixar has ever made, after quite a long wait of 14 years we finally got a sequel, the superheros come back with the same struggle of superheroes being illegal. Elastigirl gets a new job trying to raise public awareness of the good superheroes do for the public to hopefully make supers legal again, while Mr Incredible stays home and tries to help raise a family. 
This was an extremely exciting and fun movie. The sequence of Bob figuring out Jack Jacks superpowers is one of the best sequences since it shows another side to superheroes that they not only 'fight the bad guys' but also have a personal life such as being a parent and raising children and this movie communicates this message extraordinarily. It is not a cliché, it's not the type of thing you are used to watching like a typical reverse rolls. The animation is stunning, Pixar continues to improve the depth of the characters, the lighting in this movie is unparalleled when it comes to other Pixar films. The worst aspect of this movie is the villain there were no surprises whatsoever, you saw it coming, the setup was very weak it is not terribly unexpected it goes the way you would hope it would go. Overall, the movie was amazing, the director took the time to write a story that sticks to the original and even improved the animation.