Jonas Brothers Debuts First Holiday Song "Like It's Christmas"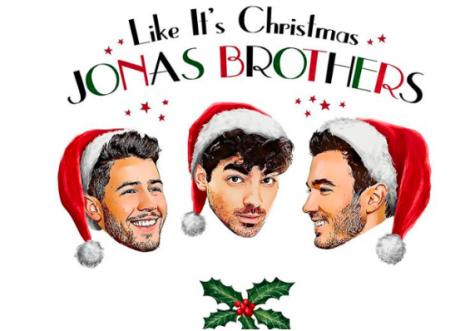 On November 8, the Jonas Brothers released their debut holiday song known as "Like It's Christmas". After the festivities of Halloween ended, the brothers posted the picture above (without the song title). Each brother changed their profile picture to themselves with wearing Santa hats. Since I'm a person who thinks about almost everything, I had a feeling that the brothers were up to something. My idea was that the brothers were starting to promote an unknown project that would be released around the holiday season. Then, on November 4, the brothers made the exciting announcement of their song. 
When the song first started playing, I to started to move my head up and down. The key to having a good Christmas song is to include either bells, snaps, or horns and the Jonas Brothers did just that. The song definitely has a Christmas vibe to it, no doubt about it. Although, the song is super catchy and even a little cheesy. Since this is the first Christmas song from the brothers, there is a sense that they were obliged to include everything Christmas related. Therefore, this made the song to not flow as well compared to other Christmas songs. 
For this to be the first Christmas song from the brothers, it's not terrible but it's not the absolute best. This song is great though to get into the holiday mood. It wouldn't be a surprise if the brothers came out with a Christmas album later this month since they released Happiness Begins only three months after their reunion announcement.