How Do We Treat Our Veterans On Veterans Day?
Local Businesses honor Veterans.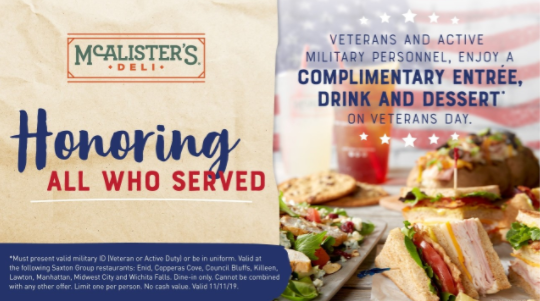 Veteran's Day, first recognized as Armistice Day in 1919, Veterans Day marks the date when Germany and the Allies signed a 1918 agreement to cease World War I hostilities. It is celebrated every year in America on Nov. 11 and it is celebrated to honor those in service or that have fought for our country. Many people honor today by giving free food to those who have fought and risked their lives for our country and there are many places that offer these deals to not only veterans, but their families as well. That list includes many popular chains such as, Buffalo Wild Wings, Red Robin, White Castle, etc. This act of kindness also impacts veterans as it makes them feel appreciated, veteran Jayson Stephenson says so as he was interviewed walking out of a Denny's after getting a free breakfast meal of his choice, he said "it made my morning and I look forward to this day all the time."So make sure if you know a veteran you tell them to go and get a discounted or free meal at the following restaurants:
Applebee's
Applebee's has a tradition of offering veterans and active-duty military a free meal on Nov. 11. It continues the tradition this year.
Buffalo Wild Wings
The "Wings for Heroes" means you'll receive one small order of wings with a side of fries.
Carrabba's Italian Grill
Get your free appetizer at Carrabba's on Veterans Day.
Chili's
Most Chili's offer a free meal to military and veterans, but call your local chain for details.
Chipotle
Buy-one-get-one-free on dine-in purchases at Chipotle on Veterans Day. Valid on burritos, bowls, salads and taco orders. This offer is valid for active-duty military, veterans, reserves, national guard, military spouses, and retired military. Limit of one free menu item with military ID.
Cracker Barrel
Receive a complimentary slice of Double Chocolate Fudge Coca-Cola Cake when you visit Cracker Barrel this Veterans Day.
Denny's
Denny's will honor the nation's servicemen and women with a special offer to enjoy a FREE Build Your Own Grand Slam from 5 a.m. to noon.
Famous Dave's
Get a free 2 Meat Combo served with one side item and a cornbread muffin.
Golden Corral
Golden Corral honors military and vets on Nov. 11 from 5-9 PM. To date, Golden Corral restaurants have served over 5.1 million free meals and contributed over $12.9 million to Disabled American Veterans.
IHOP/IHOB
Free red, white, and blue pancakes with blueberries, strawberries, and whipped cream.
Krispy Creme
Military and Veterans get 1 free donut and small coffee on Veterans Day.
Little Caesars Pizza
Grab your free pizza or $5 HOT-N-READY Lunch Combo on Veterans Day.
Longhorn Steakhouse
Free appetizer or dessert for active duty and veterans. In addition, eligible customers will get 10% off the table's total check on Nov. 11.
Olive Garden
Choose from 6 popular entrees from Olive Garden's menu for free on Veterans Day.
Outback Steakhouse
"Military Mates" and their families can get a free blooming onion and drink.
Red Lobster
Get your free appetizer or dessert on Nov. 10 or 11.
Red Robin
Get a free Red's Tavern Double Burger and Bottomless Steak Fries. Dine-in only.
Ruby Tuesday
Free appetizer for all veterans, active duty and reserve service members on Nov. 11.
Starbucks
Free tall brewed coffee for active duty, reservists, veterans and military spouses on Nov. 11.
Texas Roadhouse
Choose from 10 lunch offers, including a complimentary beverage.
Village Inn
Village Inn will honor members of the armed forces with a free breakfast.