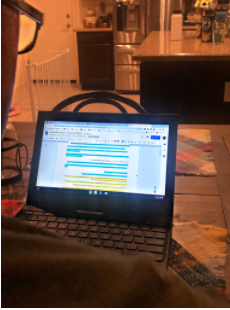 Molly
Is online school driving you crazy? You might be eager just to go back to school, but with Covid-19 still an issue, in-person learning won't be how you remembered it.
When students are finally ready to return to in-person learning, you can expect some major changes in your daily school schedule. These changes include wearing a mask all day, class sizes being decreased, and desks being spaced out accordingly. Arrival and drop off times will be staggered. Students will most likely be split up, and these groups will return to school on separate days in order to minimize contact.  It will also be required that you report home immediately if you have any symptoms such as a cough, chills, nausea, and even a headache. If a school has any outbreaks of Covid-19, it must be reported immediately. 
So the question is, will students be able to handle these rules/guidelines? Can teachers and staff ensure that all students will have masks on 100% of the time, and can they truly prevent close socialization between students? Teens can be very hard to manage, who knows what it will be like under these circumstances. When was the last time you stood 6 feet away from your friends? There are so many possibilities that could occur that would put a bump in the road. For instance, how will emergency situations be handled with Covid-19 guidelines in mind? Can schools really ensure the safety of their students and staff with all these risks?
With everything that's going on right now, some think going back to school will only hurt Americans, putting families everywhere at risk. Others, however, think moving back to in-person learning is a huge step to going back to the way things were. No one truly knows what this school year has in store.