Golf Season Starting Up!
More stories from Jessica Godina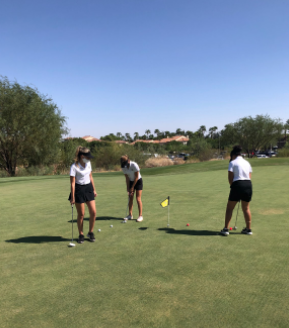 Even though the girl's golf season may have been put on hold at first, it has not stopped these girls from preparing for a wonderful season. All of these ladies have been working hard for this very much anticipated season.  "They are an extremely hardworking and fun group and I'm excited to watch them grow and improve as people and as golfers." This was words from Mr.Lyons the Verrado's Girl's Golf coach who is very excited about this season as well. 
 This year there are 14 girls on the team and they are all thrilled. Although there are no seniors on the team, this means that the lower classmen will have more opportunities. By the time these girls are seniors, they will be prepared for if they want to continue their golf career in the future. I had the chance to interview Coach Lyons, he states "This season has been very exciting due to the level of interest.  We have and will continue to improve each day. We have some girls golfing varsity who have a lot of talent but are just learning the game.  As a coach, this is exciting because it means that there is so much potential for growth." 
The golf team has worked hard to prepare for this season even though the Coronavirus made it difficult for the girls to practice outside of school. I asked Coach Lyons what his plans were for this upcoming season and he said, "Due to the pandemic it was difficult to coordinate any activity during the spring and summer months leading up to the season.  A lot of the girls took it upon themselves to work on their own and with their teammates during the offseason.  Now that the season is going the girls are out on the practice area and the course every day after school." These girls have been doing their best to prepare for the season. I believe that the girl's golf team will strive for success this fall and work their hardest. 
It seems for these girls it is more than just being a part of a team as they were working together outside of the school to improve their skills. Due to Coronavirus, it might have been difficult but these girls were determined. Their offseason might have been canceled but they made the most of it. 
Overall, this golf season will be very much fun for the girls despite the difficulties they have faced by dealing with the Coronavirus. We wish the Verrado golf girl's their best throughout the season! 
Leave a Comment