Get Outside and Ride!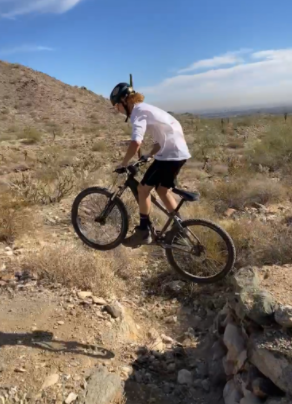 Online learning can be insanely stressful for students, losing sleep and having class half of the day is hard. There are lots of ways to destress, but one of my personal favorites is exploring what you have in your own backyard. For many, the trail systems located in the mountains of Verrado and the white tanks are a perfect place to do so. One trail, for example, is the "Victory steps". It's a great place to hike up and enjoy the view after a long school day or even just enjoying your lunch overlooking Verrado and it's a uniquely beautiful mountain range. 
Another great location in Verrado is the Lost creek trail system. Offering trails of all skill levels and lengths. At the top of Lost Creek Drive you can hike through the great trails Verradoverrado has to offer, taking you through mountains and beautiful southwest wildlife. If you'd prefer a faster, more intense way to forget about school, the top of Sunrise Ln is a gateway to a system of intricate biking trails. A bike meant for rougher terrain is highly recommended, one with suspension. The sunrise trails take you through technical uphill, tight cutbacks, drop-offs, and gap jumps. All of these are optional, but if you have the equipment might as well use it right? Remember to stay hydrated and have fun. 
Leave a Comment