Thank You, Verrado High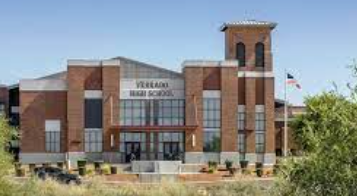 Dear Verrado High School, 
 I always heard that high school will fly by, but I deeply feel as if the years with you slipped through my fingers in a second. It was the year 2017 when I entered the high school world. For me, High school was seen as a big stepping stone. It was a tiny look into the grown-ups' world, a small taste of reality. As much as that scared me, growing up was all I ever wanted to do. 
Looking back now, I realize I don't really want to grow up. The real world is scary quite honestly. Becoming an adult comes with a lot more than you think. With time I  learned to appreciate these years, after all, time doesn't stop for anyone. Things will always move forward. So, with time I must move forward myself. Meaning, I must look beyond you, Verrado. Which is much easier said than done. I struggled a lot with looking beyond, I feared it almost. As If I couldn't let you go. Life after Verrado is a scary thing to think about after all. It is okay though, even If a path is blurry there is no set time you must walk it.
I genuinely appreciate every memory given to me by you, Verrado. Even if things weren't always perfect. The people I have met, events here, and everything else makes it worth it. Despite if COVID-19 ruined my junior and senior year, it was still a unique experience that I will ramble on about when I am my parent's age. So, Thank you. Thank you for the questions about having 3 walls, it was a great icebreaker many times. Thank you for the security guards, learning their "legacies" and nicknames was fun. Thank you for the football games, basketball games, dance shows, and fashion shows. Thank you for the amazing teachers, and the rest of the staff. 
Soon, I will be moving to the next step, College. I will have to leave you behind. 
I was fortunate enough to receive a full-ride offer to NAU, and with much time and consideration, I have decided to go through with the Estrella Community College nursing program linked with NAU. This wouldn't have been possible without you, Verrado High School!  
I hope you enjoyed your time with me, and the rest of the 2021 class!
With gratitude forever, 
Angelique Garcia.