Does Godzilla vs. Kong Live Up To All Of Its Hype?
April 22, 2021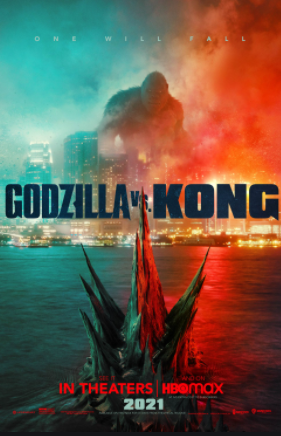 Last week, "Godzilla vs. Kong", Directed by Adam Wingard, finally hit theaters across the country as it became one of the biggest blockbusters the movie industry has seen since the pandemic started. That doesn't say too much since a majority of blockbuster films were pushed back, but it is by far a step in the right direction. The real question remains though: Is "Godzilla vs. Kong" worth all of the hype?
Overall, I would definitely lean towards the "yes" side, as this film is an action-packed thriller following two of Hollywood's biggest creatures, King Kong and Godzilla. This film tends to go through all of the emotions: sadness, thrills, loads of action, mysteries, and even more. Although this film is filled with the action it was expected to have, I feel it definitely has some of its downsides. 
For starters, most of the big fight scenes between the 2 main creatures, King Kong and Godzilla, tend to be dragged on for way too long in my eyes, and also just try to do too much. These notable action scenes spark quite the entertainment at first, but as they drag on, I became much less interested in how those sequences ended. On top of that, Director Adam Wingard just tried to do way too much when it came to those fight scenes; so much to the point where the scenes were hard to follow in many instances.
Along with trying to do too much with the action scenes, I also felt as if the acting in this film was extremely corny, and maybe overall just not the best group of actors and actresses. Every actor obviously did their best with what they had to work with, but the 2 main groups of actors just didn't blend as well as they could've. Maybe just one or two changes in acting choices could have made this a lot less corny. Though, what can you expect from a big blockbuster movie that is trying to target all audiences? 
Moving on to one of the most important aspects of a movie, especially in a big blockbuster film: enjoyability. I have to say, this film definitely hit everything it needed to entertain me for the day. Although the action may have dragged on, it was definitely still very enjoyable. I mean who wouldn't find fun in a monster-sized gorilla fighting a monster-sized sea creature?!
I definitely was a fan of this film. If you're looking for a pure 2 hours of enjoyment, catching this film won't disappoint you. With a wholesome, yet contradicting ending, this film will have a positive impact on anyone who sees it!