"The Unholy" Misses Big Despite Having A Very Good Backstory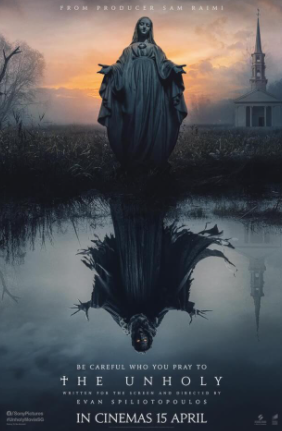 I had the chance to catch Evan Spiliotopoulos's most recent horror flick "The Unholy " this past week and let's just say I was disappointed, to say the least. This was definitely the first movie in some time where I walked out disappointed.
Having been released within the last week or two, "The Unholy" follows a young girl named Alice, played out in quite the religious setting. The actions of a man named Gerry unleash an unholy spirit known to them as "Mary" who is historically known as being holy, but this is the unholy version of her. Gerry essentially does anything he can to get "Mary" out of Alice before it's too late. 
Religious horror films tend to be a personal favorite of mine, but this truly just missed the mark for me. It takes a religious setting and touch to it but completely wastes it by following the typical "possession" horror movie plot. 
Aside from trying to be like every other bad horror movie, this film takes a very intriguing and religious back story and does nothing with it. The history behind the demonic forces in this movie is quite evil and unsettling, but after briefly mentioning them, they were never acknowledged again. 
"The Unholy" did have some things that I found very interesting and enjoyable though. Overall, I felt this film had a desired tone and score, as it made this whole movie feel extremely suspenseful. Even in its dull moments, the music and overall tone made this movie feel creepy. Aside from that, when this movie tried to scare me, I feel like it really got me. This film wasn't that scary, to be honest. In fact, there were only a handful of scary scenes, but every time it tried to scare me, it was unexpected or just scary. 
To be fair, overall "The Unholy" wasn't a terrible film. It had such a great premise, a great backstory, and a nice, religious theme to it, but it just didn't deliver. It could've been significantly better with the right directing and writing, but it wasn't. If you're a horror fan, this is something you should check out regardless but if you are an average movie watcher, you may find this to be a bit slow and forgettable. 
Leave a Comment