Poignant graphic memoir: Dancing at the pity party
May 7, 2021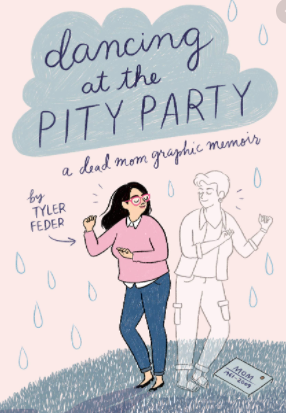 A memoir is conciliatory to remember someone from personal knowledge; this graphic novel is a real-life story memoir dedicated to the author's mom. This memoir gives the readers a look into the perspective of going through shock, denial, pain, guilt, anger, loss, despair, acceptance, and hope. Even though this book sounds like you would need to have tissues to be able to read it, it is surprisingly comforting especially for someone who has suffered from grief. This book is called Dancing at the Pity Party and was written by Tyler Feder, an artist who uses this book to express and share her feelings about her mother's death.
This book is a real-life story based on the author dealing with grief due to her mom passing away with cancer. Through pictures, humor, and truthfulness this graphic novel gives the reader an inside look at what Tyler was going through during her mom's chemotherapy, struggles with cancer, and death. Throughout the whole book you can see how close Tyler and her mom are, Tyler thought of her mom as strong, caring, thoughtful, and opinionated. They knew each other's strengths, weaknesses, likes, and dislikes causing them to have an overall strong mother and daughter connection. Tyler has a dad and two younger sisters who also went through heartbreak when they figured out that their mother got diagnosed with cancer. Fortunately, they could relate and talk to each other when they felt like no one understood or cared enough. When Rhonda (Tyler's mom) got diagnosed with Ovarian cancer everyone was in tears of despair and felt sick about everything that was happening, although there were a lot of casseroles and lasagna delivered by friends and family that heard the news.
 Eventually, Tyler's mom started chemotherapy and it was life-changing for their family because of multiple reasons. One is the number of doctors, nurses, and specialists that were involved with Rhonda's treatment. Two because of the side effects that came along with curing cancer. Rhonda lost all her hair and slowly started feeling less and less like herself. Tyler and her family didn't take this too well especially Tyler, Tyler went through denial as she saw her mom get sicker and sicker. She didn't even recognize her which made everything all the worse. Sooner or later they figured out that her mom would have a definite death and when she went that's when the funeral started filled with apologies and well wishes. Tyler and her family are Jewish so they had funerals very differently, but I thought that the way they had their mom's funeral was prodigious in being memorable.
After the funeral, it was just Tyler and her family dealing with the loss of the mother of their family. Tyler became incredibly antisocial because she didn't want to be without her mom and this made her want to be comforted by her mom. For the first few weeks after the funeral all Tyler could do was associate everything with her mother but eventually, she settled back into being sociable and being able to live her life as a college student. Even though she missed her mom's calls, happy birthday wishes, and surprise gifts she wasn't the only one trying to cope. The rest of her family was trying to fit into a new life without the mother of the family being there which was at first a mess but then it just became the new normal for them. With support, comforting, and trying to find every bit of happiness they eventually built a well-structured new normal without their mom. Although their family had a new normal Tyler still was grieving her mother by spraying her perfume on her, looking at her pictures, listening to sad songs on repeat, looking through old photos, cooking her mom's recipes, writing this comic book, and her crying. 
This graphic novel can give insight, comfortability, and relation to people who have dealt with loss and are looking for correspondence or hope. The author, Tyler Feder understands what it is like to lose someone close to them causing her to write this book to give tips on how to comfort someone or how to cope with what you may be going through. This book is exceedingly different from most books that I have read because it truly connects to the audience with truthfulness.
Dancing At The Pity Party has changed my thoughts about how people cope with death in a family and I think it could change a lot of perspectives too. If you are interested in reading this graphic memoir it can be checked out at Verrado Highschool's library, read online at https://soraapp.com/library/aguafriaaz, or bought online.