What A Home Prom Was Like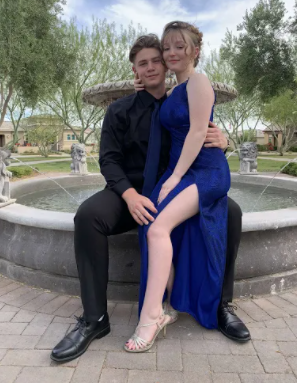 Now that prom is all done and over with, whether it was for seniors at the school or at home for juniors. Since prom season for us is now over I'm going to go ahead and talk about my experience having my first prom at home instead of at school. 
To start off clothing was more relaxed, of course, all of the girls had gone out and bought a prom dress that they liked and wanted, but not all of the guys wore suits. Some like me had just worn dress pants, dress shirt, and a tie. Some may have gotten a haircut like me, from being able to pull it back into a ponytail to not having enough to really grab anything to pull back. 
Next was after getting dressed and ready were the pictures. Those went as you would expect, going through all of the nice spots in Verrado and coming back to my house to take pictures with one of my cars and that was that. Finally, it was time to go to the party, we had arrived right after 6 and others soon came after us; everyone had something, whether it was food, drinks, or utensils.
After everyone had got there and got their even more group and individual pictures in front of the backdrops out of the way, everyone split up into their own groups. Friends stuck with friends. Most of the prom was eating and drinking with friends while music was playing the whole time after a couple of people had left and it was close friends that were left, then people started to dance. It wasn't a whole lot but it was still something. 
Once a couple more people had left, I did too. All in all, it was a fun experience, but a very different experience compared to dances at school. I hope to experience a prom at school, or even a school dance again. 
Leave a Comment