The Effects of COVID-19
May 17, 2021
People 16 and Older Can Now Get Vaccinated for COVID-19 in Arizona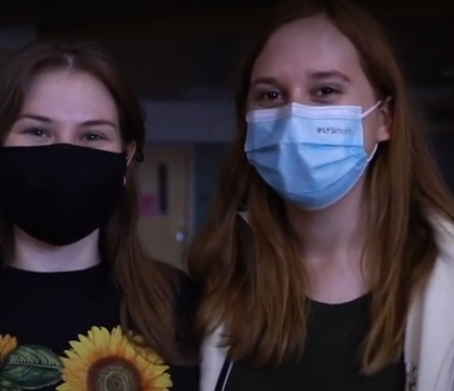 People 16 and older can now get vaccinated for COVID-19 in Arizona and I had the opportunity to get vaccinated last Friday. If you are interested in getting the vaccine these are the steps you have to follow: First, your parents or guardian has to go online, sign up at the Arizona Department of Health's website and make an appointment, then they will assign you a site where you can go and get the vaccine. 
Some of the vaccination centers are the State Farm Stadium, the University of Arizona in Tucson, Chandler-Gilbert Community College in the East Valley, Grand Canyon University, and Yuma Civic Center. You do not get to choose which of these centers you go to, they will randomly assign it to you. 
I had a very good experience while I was getting the vaccine and after getting it. I did not have any side effects other than a little bit of pain on the arm that I got the vaccine. It was very quick and did not have to get out of the car, there was no pain and the staff was very nice and kept their masks on at all times. I would highly recommend getting your vaccine if you are over 16 but do not stop wearing a mask so we can all be safe! 
Leave a Comment
My Experience With Covid-19
For this article, with the blessing of my teacher Mrs. Studts, I want to do something a little different compared to what I usually write about. With Covid-19 being an integral part of our daily lives now, I want to share with everyone my experience with Covid-19 and how it has affected my family and I. Hopefully, this can open people's eyes and show that this is a real threat that truly needs to be taken seriously.
To tell you my story properly, I want to recap how we as a society have gotten to this point and what Covid-19 has done to change the way we live our lives. On January 21, 2020, the CDC reported the first novel CoronaVirus case in Washington after a student at Washington State visited Wuhan and came back with the virus. When my family and I first heard about the news of the first confirmed case, we didn't give it much thought and all made the collective thought that it would only be one case and something to not even worry about, but man were we wrong. With life going so well and my junior year about to close, I was ignorant to the idea of some virus affecting my life and the lives of those close to me. Fast forward to March 13th of 2020, at that time it seemed like the beginning of a normal week-long spring break, but as the Covid-19 situation became direr across the country and now in the state of Arizona, Spring Break would be much much longer than expected.     
As it turns out, March 13th, 2020 may or may not be the last time I stepped foot in the halls of Verrado High School as a student. On March 15th which was about mid-break, we received an email stating that school was canceled for a week-long period which at the time was the best news we could have ever received because it meant a longer break, but again we didn't know that eventually a week would turn into a year-long quarantine.
Throughout 2020 after the month of March, things were great. I still had all my friends and family close to me, I was still able to play baseball, I took a lot of time to work on myself physically and mentally, and I was able to travel a little even if it was minimal. All in all, life was going well and I didn't see how the virus would have an effect on my life and the life of those around me since no one had gotten it at that time, but that would all change on December 31, 2020. On the last day of one of the most turbulent years in modern human history, the streak of not having the virus would swiftly end when my dad brought home an ugly surprise in the form of Covid-19. After a long night of partying on New Years, I woke up the next day feeling sicker than ever with a banging headache and my sense of taste and smell slowly fading away as the day went on. My family and I got concerned so like any other person we got our pricey but convenient rapid test. After only 2 minutes of waiting, my dad and I got the news that we had tested positive. The last thing I wanted to hear especially since the New Year had just begun.   
The next 2 days followed with the rest of my family testing positive, sending us all into quarantine with all 5 of us stuck in our house together. At the end of that week, we received even worse news with my grandma, grandpa, great-grandma who was 99 years old at the time, and 2 more of my aunts and uncles testing positive for Covid-19.
After feeling invincible and that the virus would never even touch me, it now had a grip on me and almost my whole family in a matter of days. For the first 5 days of having Covid, I had never felt more sick in my life. It had me, my brother, my sister, my dad, and mom all bedridden for days. Fortunately, after a couple of days, the feeling of being sick slowly crept away but our senses of smell and taste took a huge hit with all of us losing it for almost 3 weeks straight.
By far for me, that was the worst part, but things weren't so hot for my parents with both of them being struck by the virus and almost hospitalizing both of them. Thankfully both of them made it out just fine, but I can't say the same for some of my family members. My great grandmother at age 99, my uncle at age 65, and my aunt at age 63, unfortunately, passed from Covid-19 all in a matter of 2 weeks. With being put in quarantine for 3 weeks and losing family members, my mental health took the biggest hit.   
A month later my family and I are still recovering from Covid-19 physically and mentally. I have found that working out and doing other types of physical activity has been way more difficult than before due to the effect that it has had on my lungs but that doesn't pale in comparison to the mental toll that it has taken on me and many others around me. All in all, my experience with Covid-19 has taught me that it is a very real and heartbreaking thing that needs to be taken seriously.
Even if you are at an age where the virus has a strong effect on you, still take precautions to make sure that you keep your family members and friends safe that are more susceptible to the virus. Though Covid-19 may not seem that scary on paper, it has the power to negatively affect the lives of those around us and even our own in ways that we may not expect. If we don't take more action now to stop the spread of the virus, Covid-19 could be a long-lasting thing that will cost more lives.     
View 3 Comments