Honors Anatomy and Physiology trip to GCU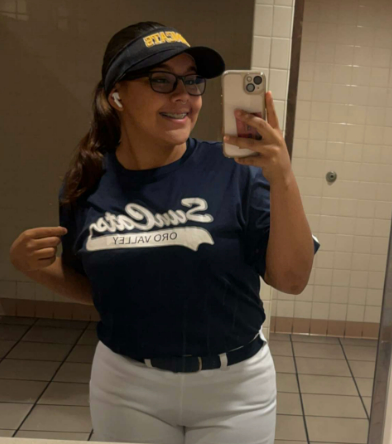 More stories from Jocelyn Lopez
With all the things you will do in Honors Anatomy and Physiology, like dissection and a lot of studying to prepare for your unit final, you do more work than you would think. With the long days in the classroom, you do get rewarded for all the hard work you do. This year, all the Honors Anatomy and Physiology and AP Biology classes got to go to Grand Canyon University to see a Cadaver. 
Students had to be at Verrado High School at 7 AM to leave at 7:30 AM. It was quite a long trip, but when you got to the campus it was full of life. The soccer players were practicing and students were on skateboards to get to class. The multiple things that you would see at GCU would make you think that this campus was a perfect place to go for college. All students had been separated into three groups. This allowed the students to not be cramped when they had the campus tour. This also allowed the students to get to see everything on campus before they saw the cadaver itself. They saw things that they didn't expect, such as a bowling alley and even the baseball classrooms underneath the baseball dugout. Now let's just say that the things you see on the campus are completely different from others.
Now let's get to talking about the cadaver. Before you walk in you have to read some rules first. The rules consisted of not having your phone or headphones in there with the cadaver. This is just showing respect to the person that was showing the cadaver and also having respect for that cadaver itself. They made us remember that it was a living person that was allowed to give its body to science. Another rule was that you couldn't have any beverages or bags. We all had to leave it outside the lab and someone was watching our personal belongings. Once those rules have been followed, then we went into the lab. It had a strong smell but most students can say it was bearable. When you go to the table with the actual cadaver it's like something you would see in movies. You would never think that you would have the opportunity to be this close to a real-life cadaver. Once she lifted the white sheet, she explained every muscle, ligament, organ, and vein. Students were fascinated and were excited to see what the inside of our chest cavity looked like. It was something that we all would remember for the longest time. 
So if you are thinking about being in Honors Anatomy or Physiology, go for it. Yes, it is a lot of time and work. If you are willing to go through all that, then this is the class for you. It's a reward to see the things that others can't see or even experience. So if you want to pursue the long hours of work and then get to witness a real Cadaver, this is going to be the class to take.
.
Leave a Comment