Verrado Vipers vs. Trevor Browne Bruins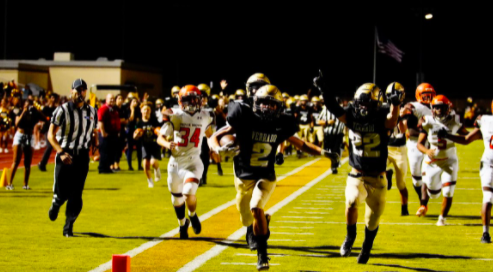 The Verrado Vipers football team hosted the Trevor Browne Bruins for Verrado's homecoming game last Friday and it was an absolute blowout. Verrado shut out Trevor Browne 50-0! Verrado got the ball first to start the game and immediately asserted dominance. Connor Gingg(#22) had some amazing runs driving our team upfield and took it to the house! When Verrado's defense came in it was another drive of absolute dominance shutting down Trevor Browne. The defense continued the domination throughout the game and Trevor Browne could not get past our defense. Verrado's defense has not been scored on for 7 quarters in a row! On the offensive side of things for Verrado, it was still absolute domination. Erik Santiago(#7) was throwing dimes all game to Tyler Acton(#13), Trey Nelson(#88) and JD Alicea(#1). Erik Santiago(#7) ended the game completing 8 out of 10 throws for 203 yards, 3 touchdowns, and 1 interception. 
The Vipers have continued to pound opponents and currently have a 5-1 record.