Softball Fall Ball Season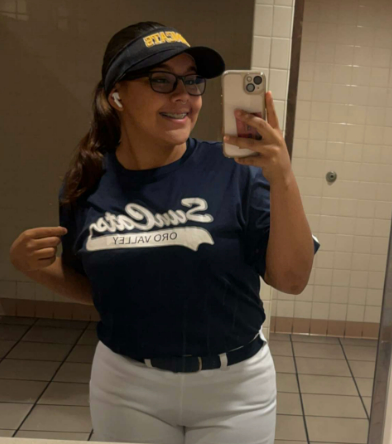 More stories from Jocelyn Lopez
Now that the softball season is right around the corner, this year's Fall Ball season is right around the corner. The start date would be November 3rd and the end date would be December 15. This would be a great opportunity for those who would like an inside look at how it feels to play as a Viper. The games would be held at Verrado and other schools that you would face. The uniform isn't complex. All you would need to wear is a black VHS softball shirt, black softball pants, and white socks. If you don't have a Verrado softball shirt, just ask the head coach, Coach Tee, and he would for sure give one to you.
The games would be held every Wednesday and the games are doubleheaders. With the doubleheaders, this gives the coaching staff to see who is ready to play next season. This also allows players that didn't get the amount of playing time as they wanted a chance to play more. One question that is always asked is if you would have to pay the umpires. Yes, each player would have to pay $5 for both games. As long as you pay for each game you should be good. 
As always, this is a time to have fun. Show off what you can do and take some time talking to some of the girls. This is the best way to meet some new people. Meeting the upperclassmen is what can make you think, "I want to be like them one day." So if you are wanting to participate in this year's Fall Ball season, here is the whole schedule. 
Games @ Agua Fria
Nov. 3rd, 8pm  Estrella vs VHS
Nov. 3rd, 9 pm VHS vs Agua Fria
Games @ Agua Fria                                       
Nov. 10th  7pm Estrella vs VHS
Nov. 10th, 8 pm VHS vs Peoria
Games @ VHS
Nov. 17th, 6 pm VHS vs Tonopah Valley
Nov. 17th, 8:30 pm VHS  vs Estrella Foothills
Games @ VHS                                     
Dec. 1st, 6 pm VHS vs Buckeye
Dec. 1st, 8:30 pm VHS vs Tonopah Valley
Games @ VHS             
Dec. 8th, 6 pm VHS vs Peoria
Dec. 8th, 8:30 pm VHS vs Estrella Foothills
Games @ VHS                             
Dec. 15th, 6 pm VHS vs Buckeye
Dec. 15th. 8:30 pm VHS vs Peoria
Leave a Comment