Ebb & Flow is the Place to Go
Coffee Obsessions
More stories from Caleb Simpson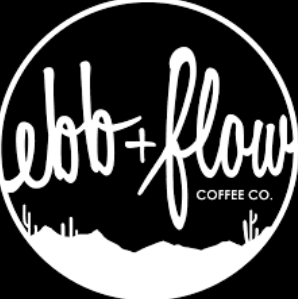 Coffee has been a constant friend of all of us since it first became our cherry on top with a muffin or a breakfast sandwich, as it became more and more popular people decided to try and make better coffee for people. Whether it was a caramelized coffee, a frappuccino, a cappuccino, etc. we loved our coffee in so many different ways. But what do Ebb and Flow have here, that's what will be talked about, and see how well it is. 
Ebb and Flow is a small coffee shop in Buckeye near Verrado middle school it is a coffee shop that was made from two friends and one huge passion for coffee, Their story begins with two childhood friends Karlie Bakke and Liz Shwartz, who had a passion for coffee they had both lived in different states but we're still friends and one day Liz Schwartz's father (who had previously lived at Verrado) had notified both of them that he had found the spot in Main Street that was open here at Verrado, Liz Shwartz had lived in South Dakota and Karlie Bakke had lived in Denver so they decided to get together and make their dream come true. The coffee shop was made and now people are starting to come in and it is growing its reputation. They also have partnered with Cult Coffee Roasters of Phoenix to give healthy ingredients not only to the coffee but to the environment to be "Environmentally conscious" if you will, they also provide varieties of breakfast items and desserts for your day and mood, scones, sandwiches, brownies, etc.
Going there personally is an experience. There have been lines that have been there before but not too extreme. Last time I had gone to Ebb and Flow I got the cappuccino and I had a friend with me and so they got the Nutella hot chocolate my friend had invited me over to Ebb and Flow and she says that they don't disappoint, after trying a couple sips of my coffee it had a very pleasing result, it had a dark taste you could taste the bitterness in each sip it was a good cup of coffee for a cool night. Another thing to add to the list is the atmosphere. They have a small but very nicely decorative place. The atmosphere as well had a very nice and serene style. It was a perfect atmosphere during the afternoon. And it had a lot to offer. They even sell some of their own products like cold smoothies, their own coffee grains, and more. The only thing that would have stood out to me that had a negative outcome was that there wasn't. Here were minimal things that happened and the service was cool and everybody was really nice. 
Overall Ebb and Flow has made a tremendous impact in coffee and they have no bad things to say about them just ask the 100s of reviews from happy customers, Hailey Koch gave a five-star review and said "Ebb + Flow is one of the cutest coffee shops that I've ever been to. I love their location and their vibe. We enjoy ordering our coffee and spending time sipping either inside or outside. Such a fun place!" Another review by Sarah C. was also five stars "we are new to the area and love Ebb + Flow. The service is quick, even when it's busy and everyone is so kind. We were there when a guest was being especially rude to the crew…but they all remained professional and took her terrible attitude in stride. We are grateful to have such a great, locally, owned coffee shop within a quick bike ride distance away" 
As you can see it's got a lot of positivity towards it and it goes on for at least a couple 100s of reviews, with good people and a good place for coffee and I'm glad to say that I would suggest you try and go to Ebb + Flow coffee Co. as a happy customer, whenever you have the time, this place has the location, the attitude and the right cup for your liking, who know is if this could be the spot for you!  
Leave a Comment