The Booming Verrado Community
More stories from Jordyn O'Quinn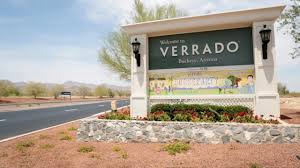 Verrado is an ever-growing community enriching itself with scenic views and a rapid expansion of buildings. Jack Rabbit Ranch is a shopping center coming to Verrado on the corner of Indian School Rd. This 3.42-acre land is set to include O'Reilly Auto Parts, Jack in the Box, Ebb & Flow, Goodwill, Brakes plus, Macayo's, Filiberto's, Domino's, Herbal Nails, Vets office, and Popeyes. Along with new homes being built and over 75 parks throughout Verrado, tree-lined streets to walk down visiting your local grocery stores and shops the scenic views are truly something to behold. 
Schools of all grade levels can be found in the Verrado community having an enriching learning environment for kids to thrive. Living an active lifestyle is a great feature of Verrado with the Verrado gym and Victory steps where families can go on hikes and have a beautiful view of Verrado "seeing" all the way to Arizona Cardinals stadium. 
A well-connected community can be hard to come by, but in Verrado, there are many opportunities to get indulged in meeting locals. One way is to visit the Verrado"s Farmers Market on N. Market Pl. and W. Main Street, Buckeye, AZ 85396 hosted by Charles Winzer"." The market runs on Sundays from 9 am to 1 pm. Offering fresh, organic, and locally grown produce it's a great way to spend time with family and friends. 
The fast-growing town of Verrado is something to marvel at with much more to come to this mountain view sunset destination.
View Comments (2)