DIY Jewelry That's Easy to Make
More stories from Maddy Parker
This week, I have invested a lot of my time in a new hobby. It was, at first, prefaced as a sort of "gag gift." Now, I'm not so sure. The reactions of my family and peers to this new activity have been very positive; Everyone seems to love what I'm doing. So, I figured I could share my "brilliant" ideas with all of you. It all starts with an object; A small one.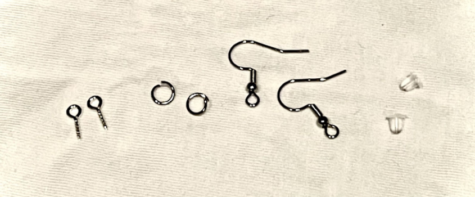 Before we get into things, you must be wondering what the topic of this article is. The name may have given it away, but if you're still confused, it's earrings. They're cute, fun, and easy to make. Depending on what materials you use, you could essentially wear them with any outfit you please. It's a great time passer & it leaves you feeling accomplished in the end. If that's not enough for you, they could even be small gifts for friends and family! They'll love it, guaranteed! 
To start, you need to order earring supplies from Amazon. There are many options to choose from, ranging from small kits to individual pieces. I recommend purchasing the kits, along with a separate supply of mini peg screws. (The kit I have did not include these, so be sure to watch out for that.) These are essential for the making process. I also recommend getting stainless steel hoops/hooks for those of you with sensitive ears. They are also heavy-duty and are better lasting in the long run. Once you have these materials purchased, you only need some pliers, super glue, a material of your choice (for the earring itself), and some creativity. 
When choosing what you want to make into an earring, you must consider its size, weight, and material. Anything decomposable (like blueberries or something) will not work for this, sorry. For my earrings, I used Minecraft Minifigures. They are a cute and easy choice for earrings, as their material is easy to pierce with the screws. However, you are not limited to just those. You can search Hobby Lobby, Amazon, thrift stores, even Dollar Tree. But once you have the object you like, you start by poking the peg screw into the center of the earring.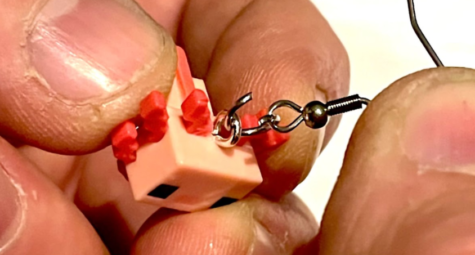 Another thing to look out for is the location of the peg. If the object you chose is front-heavy, you'll need to put the screw towards the front of the material. For example, I made some Minecraft goat earrings for my second set. When doing this, I put the hook higher on the head because of its larger size compared to the body. Doing this kept it from hanging facing downward. For more proportionate materials, this step isn't necessary. Instead, you'll move on to the next step.
Gorilla Glue. Any form of super glue will work. Once you have your screw twisted in, you're going to need to unscrew it again. Make sure not to rip it out; this might strip away the inside, making it harder for the screw to stay. Once you've taken it out, dab a bit of super glue onto your peg screw, and slide it back into the original hole. This step will ensure that the hooks won't come out. 
Now that the hard part is over, you can move on to the rest of the hooks. Just take your small hoop piece, hook it to the screw's loop, grab your ear wire (the part that goes into your ear), and feed it into the hoop as well. After all of your pieces are together, pinch the loop closed using your pliers. It's as simple as that!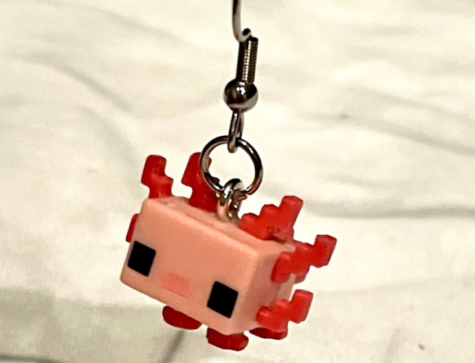 Now that you're in on my "little secret," you can make custom earrings whenever you please! Using this new knowledge, you can even teach your friends how to make them as well. It will serve as a great activity when you're hanging out together, and they will serve as great accessories for your Instagram collage!
View Comments (2)