2022 SuperBowl LVI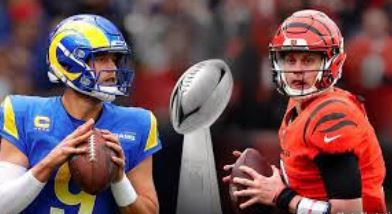 On February 13th, 2022 SuperBowl LVI is going down with Joe Burrow and the Cincinnati Bengals against Mathew Stafford and the Los Angeles Rams. After a very eventful championship weekend, the Bengals knocked out the Chiefs after coming back from an impressive 21-point deficit, and The Rams knocked out the 49ers scoring 13 points in the fourth quarter. 
The Cincinnati Bengals have not won a playoff game in 31 years, and have not made a super bowl appearance in 32 years! If you are on social media you will quickly realize the whole world seems to be rooting for Joe Burrow and the Bengals as there are many memes calling Joe Burrow "Joe Sheisty" and "Joe Brrrr". 
After suffering an ACL tear last year, Joe Burrow came back for his 2nd year stronger than ever. Jamar Chase, a rookie wide receiver for the Bengals played alongside Joe Burrow at LSU, has sparked a lot of attention for his amazing performance this season and he will be a dangerous weapon in the Superbowl. 
Though the Bengals have created a massive entourage, don't doubt Mathew Stafford. He is another fan-favorite quarterback chasing down his first super bowl ring along with Rams wide receiver Odell Beckam Jr (OBJ), cornerback Jalen Ramsey, and defensive lineman Aaron Donald. 
OBJ was traded to the Rams from the Cleveland Browns and many thought he was a washed-up wide receiver due to his performance with the Browns, but he has now proven that he is still very much in his prime. OBJ's issue was Brown's quarterback (Baker Mayfield) who has sparked a lot of controversy about his talent.