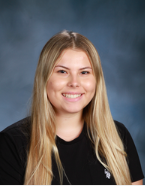 Zoey Wolfe, a "crazy, fun [and] outgoing" Junior at Verrado High School chose to take Journalism I this year. Wolfe describes herself as "optimistic, empathetic and kind" which her friends would agree. 
As member of the 2021 graduating class, she is proud of her academic achievements she has accomplished thus far. This young 16-year-old has big plans for after high school. Wolfe plans to become a lawyer, but is bent on the amount of schooling. 
Besides her great aspirations, Wolfe chose Journalism because "I really like creative writing and writing in general." Outside of school, her interests include watching Netflix and taking naps. 
While at home, she has two dogs named Athena and Zues that keep her company.  Lastly, Wolfe enjoys listening to early 2000´s R and B, and going out of her comfort zone to meet new people. 
Zoey Wolfe, Staff Writer
Sep 14, 2019

A Book That Will Touch Your Heart: The Help

(Story)