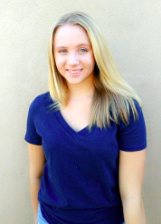 Jade Simpson, an outgoing, caring and supportive Verrado Highschool Junior will be taking her first year of Journalism. Simpson will be balancing her journalistic duties with Varsity Pom, dance classes and working on achieving a 4.0 GPA. 
Highschool has so far been an easy experience for Simpson, she finds it "flexible and allows room to grow in many different directions". Simpson is inspired to write stories that have previously inspired her personally.
Simpson has chosen to take
Journalism I
to open potential career opportunities. Simpsons' plans for after highschool will go one of two ways, either take a year off to travel, explore and experience new cultures or she will go straight into university and pursue marine biology. 
Simpsons' plans for after graduation are to work with rescue groups as a marine biologist to help animals in need. Simpson plans on working with many different rescue groups in hopes of having a significant impact on sea life. 
Simpson has also found time to aid Packages From Home through fundraising. Simpson has previously raised over $1,000 for this organization that puts together packages for deployed soldiers.
Jade Simpson, Staff Writer