Forensics Class is Looking For New CSIs
More stories from Micah Walters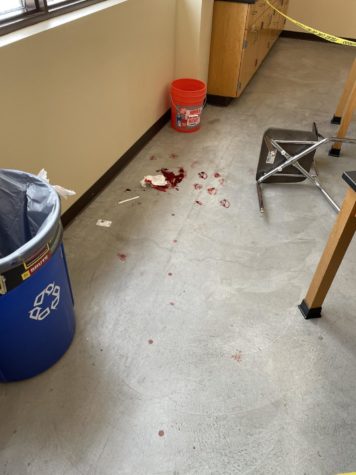 If you're interested in how crime scene investigations are conducted and how evidence is processed then Forensics would be a great class for you. Mrs. Sherman has been teaching Forensics for 4 years here at Verrado. She explains what's going on this week in Forensics class:  "During the first week after fall break, we're doing a hair lab where students will use nail polish to create a slide showing the details of their hair cuticle. We'll also eventually use our fingerprint on a balloon to blow up and look at details called minutiae." Before Fall Break, students went to different locations around campus collecting trace evidence samples "in order to determine the location of the primary crime scene by comparing it to evidence from the victim's sock. We've also used microscopes to identify substances left at a crime scene".
The class is a good change of pace for people who feel sitting around in class all day is boring. Forensics will keep you busy as there is a variety of different things to be done throughout the course, and most of them are hands-on. Some of these things include crime scene photography, using evidence markers, learning about investigating, and observing dead bodies. In forensics, there are many different types of science included such as physics, chemistry, and biology. Resources used include cameras, tripods, flashlights, and record logs.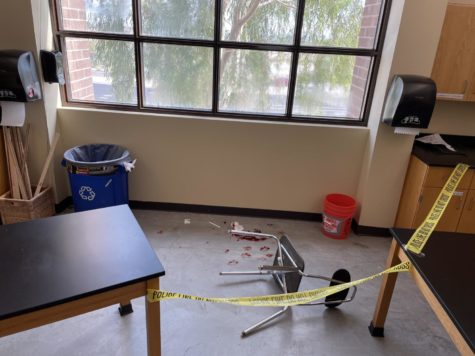 Fyn Elton, a student in Forensics stated the following, "I enjoy Forensics for the mental challenge it provides. Mrs. Sherman provides a fun learning environment for her students. Mrs. Sherman teaches her class to think analytically. This class is perfect for an interactive experience for anyone interested in a career in criminal justice! It teaches us how to use our observing skills and tools to make up conclusions. It helps us reinforce and provide basic human skills. Mrs. Sherman has taught us the steps in order to solve a crime scene. Mrs. Sherman has been able to create the classroom environment a safe and welcoming space where we can still grow our minds. Forensics is an easy class that still is fun.  I recommend taking forensic science during high school".
Students enjoy the hands-on parts of the class as it is something different from other classes at school. Forensics has a different feel to it than most classes. Forensics is a good class for students who want to learn and have fun doing it.
If you're an upperclassman looking for a full-credit science course, and you want to live out your NCIS, CSI, and Criminal Minds fantasies, Forensics Class is a great option for you. 
Leave a Comment