Chalk Art Competition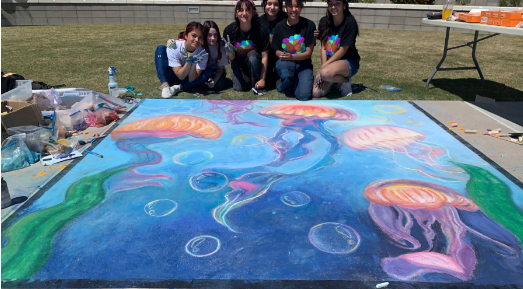 On Saturday, April 1st, 2023, the City of Goodyear held its annual chalk art competition. Last year, Verrado won the Chalk Art in The Park event, as their chalk-made painting won the votes of the people. This year the trophy was brought back to the Goodyear Rec and up for grabs as Verrado and Desert Edge were to construct their paintings to the best of their ability to try and win the votes. Millennium was also in the competition, but their square was left blank as it appeared no one showed up.
Families and members of the community who came to watch were given chalk and allowed to draw whatever they wanted in their own squares. There were at least 105 squares, around 3 by 3 feet each, designated for Community Artists to get creative. A DJ played music that really helped set the tone for a relaxing vibe for participants and their families to meet new people and mingle.
Professional artists including Verrado's sculptor and ceramics teacher, Mr. Brown, were also participating, creating his own amazing art piece along with 8 other artists who all had their own individual squares.
One older woman with her grandchildren, Nourine, had a lot of fun. She said, "It's so nice seeing all the families get together and letting the children play."
The female artist in the Kermit sipping tea photo said she was "really happy she found out about the event in time. I only found out about it a couple of days ago when I googled fun things to do in Goodyear."
The creativity really shined through the artwork. Quite a few fantastic drawings featured elements of the Mexican holiday Dia De Los Muertos, a lot of nature landscape drawings, and characters from animated shows like Sonic. Drawings with some focus on eyes seemed like common inspiration as well.
After the final votes were cast in the competition Verrado took home second place. Although the Vipers didn't win, the Goodyear's Chalk Art competition was able to bring the entire West Valley together to celebrate art and community.