The Verrado girls' golf team is getting a late start on their 2023 season as they just found a coach. They are also planning to add a float to the upcoming homecoming parade.
This year Camryn Corralejo and the team are hoping to have a better season, as they lost in the district tournament to end their season last year. The girls encourage people to join the golf team, as there are many benefits. Tryouts are on September 5th for those who are interested.
Camryn states, "I think more people should go out. It is competitive and more fun than it looks. It is a competition with yourself and I think builds character. I also enjoy playing against friends as well".
While getting to showcase your golf skills, you also get to be a part of a fun and supportive team and get to know the girls who could become lifelong friends.
Golf has been proven to help develop discipline, focus, and mental strength, which can be applied to other life skills. It is also a great way to enjoy the outdoors and stay active. Overall, being on the team gives you the opportunity to compete and gain confidence throughout the season.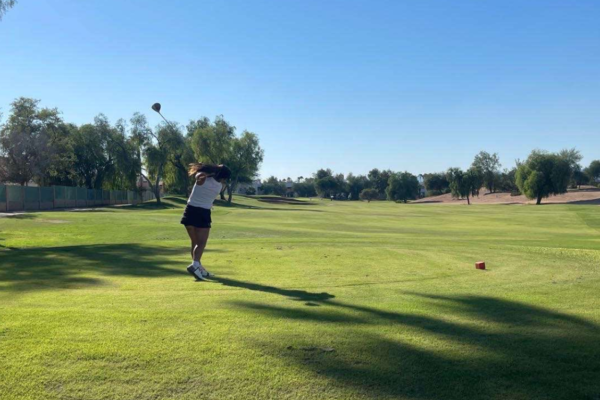 When asked about her favorite thing about golfing, Camryn says, "I love competing with myself. The competition with myself is what makes the game better, and I can always find ways to improve".
Camryn thinks that for her personal season, she should finish top 50 in the state, she talks about her improvements, "With being able to add 30 yards to my tee-off shot, it puts me in a perfect spot to hit my second shot to end the hole with a good score, along with the fact that I have been taking private lessons to get my swing dialed in."
As for the team, practices are typically from 3:45 to 5:00, however, there is a new coach this year so it could be different from previous years.
When talking about the matches, Camryn explains, "We play between 12-16 matches throughout the season . This allows us to submit only our top 10 matches which leaves room for us to have some off days, creating some leniency for how we play".
Overall, golf is a great sport to try that is both enjoyable and competitive.