Going D1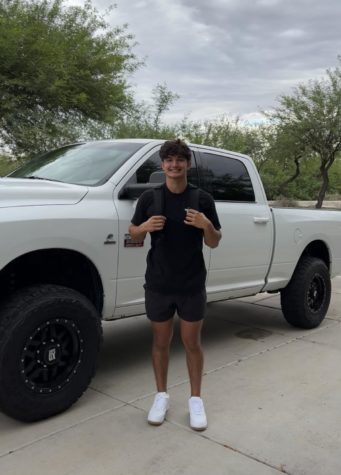 More stories from Gunner Gingg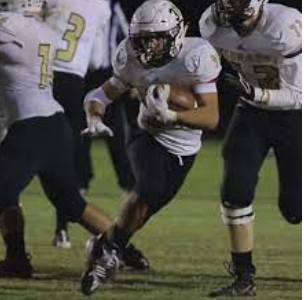 Going D1 in a sport is an unbelievable accomplishment for any High School athlete. 
It takes true dedication and determination. It takes a lot of your time and all of your efforts. Not only do you have to be an outstanding athlete, but you also have to be an outstanding student. 
Logan Gingg, a 2021 graduate of Verrado High School was able to accomplish that. Logan was born and raised in Arizona and grew up playing football his whole life. Throughout his Elementary and Middle School years of playing football, he always had a special talent for playing running back and his coaches could see that. During High School,  Logan was a 3-year Varsity Running back for Verrado. With his years on Varsity, Gingg averaged 116.8 rushing yards a game, 3037 total rushing yards, and 38 total touchdowns in his career. Logan had awards such as 5A offensive player of the week, Ed Doherty award nominee, 2x all-region running back, 2020 5A all-conference running back, and won Offensive Player of the Year for his Junior and Senior years with the Vipers.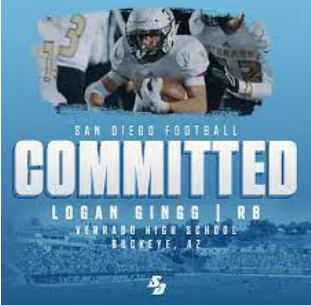 But Football wasn't always as easy as it looked for Gingg. "The hardest challenges with high school football were the daily sacrifices you had to make in order to complete at a high-level week in and week out, along with trying to put yourself into a position to make it to the next level. Challenges such as being disciplined, and taking care of your body, whether that was going to sleep early, being in the training room, fueling your body the correct way or simply not participating in regular fun high school activities could lead to getting hurt. 
"Towards the end of my junior year and all of senior year, I knew my role on the team was very important. I knew that I had to perform well in order to put our team in the best position possible to win, so with that, a challenge I faced was trying to not let the moment ahead of me feel too big. Football is a very mental game, and controlling your emotions and nerves can be difficult when you place pressure on yourself, so I learned to just focus on the moment and make the most of the current moment/play in order to relax and play to the best of my ability"
With balancing football and the challenges that come with it, Logan also made sure that he kept up with his schoolwork and did the best he could in each class. Gingg was asked how he kept up his grades while putting so much effort into football, he replied
"
"A big part of getting good grades in high school is simply putting in the effort. I never felt like I was the smartest guy ever, I just knew that I would put in more effort than the person next to me. Whether it was staying after the bell to talk with a teacher to see how I can raise my grade, or making it a priority to turn in my homework on time,  never miss an assignment, and never turn something in late, it all made a difference in the end. It's all effort, and effort is a quality that each of us controls in everything we do." 
— Logan Gingg
Gingg finished his High school education with a weighted 4.0 GPA, and with his good grades and football abilities, he received 6 Division 1 offers. The first offer he received was from Yale University and he was beyond excited and blessed to have received an offer from Yale. Out of his 6 offers, Gingg would end up deciding to attend the University of San Diego and be a Torrero. He chose USD because they have a great football program, nice weather, and it is not too far away from home. Logan going D1 was not an easy accomplishment, but with his perseverance and determination, he was able to do it.
View Comments (3)