Vipers End Playoff Run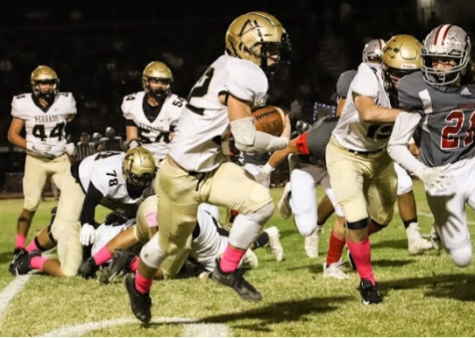 On Friday, Verrado Vipers Football officially wrapped up the end of their season with a loss to Desert Mountain High in the first round of 5A playoffs. The Vipers went through many ups and downs throughout the course of the season, but none of that mattered because they were able to make playoffs as a #15 seed set to play against the #2 seed Desert Mountain. Seniors Nathan Bilski, Anthony Pereda, Colin Tibbs, and Angel Santiago were eager to ensure this would not be their last game as a Viper. But even though the team prepared, it became evident this first round would not be an easy fight to win.
The game commenced the Vipers had a slow start. Senior middle linebacker, Nathan Bilski: They were more prepared than us. We stepped out on that field they knew exactly what we going to do and how we were going to do it. And that really hurt us." Desert Mountain´s offense found success in passing the ball and found some long gains. On a 1st and long Desert Mountains quarterback was able to take advantage of Verrado´s man coverage and score a 63-yard touchdown run making it a 0-7 ballgame. The offense had little to answer back with as they experienced a quick three-and-out drive.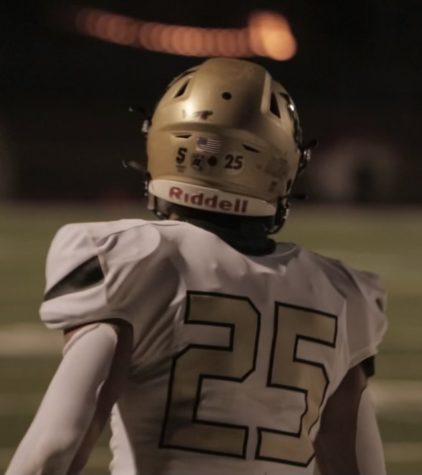 Making adjustments, the Viper´s defense rushed onto the field ready to have a better drive. After a costly penalty, the defense once again found themselves pinned up against their endzone. With great coverage and pressure from linebackers Nathan and Gunner Gingg, the defense escaped off the field by only letting up a 3-point field goal. Still, Nathan Bilski felt they could've done more. "We shouldn´t have been so predictable. We should've spent more time drawing up different blitzes and coverages they wouldn't expect. I would have liked to see less man coverage so they couldn't take advantage of our young DBs and we could be able to stop the run. Everything we did they saw on film."
The Viper offense still had trouble finding their rhythm and had to resort to punting. Quarterback Erick Santiago added: "Offensively we weren't able to get ahead of the sticks on first and second down and found ourselves in bad positions. We also didn't execute our plays to perfection and had a few turnovers."
On the next drive, the defense had more trouble stopping the air raid. The Vipers let up four passes with one resulting in a touchdown. Desert Mountain now led the game 0-17. With a few more ugly drives by both the Viper´s offense and defense, they walked into halftime down 0-31.
After more adjustments with the coaches, the Vipers were ready to prove they deserved to be on the field. The Viper Offense started the second half off with the ball. Santiago praised the Vipers fighting spirit: "We did find a small bit of success running the ball up the middle on QB runs. I wish we could have executed and been more efficient on important downs. this would've put our team in a much better position." On a hard-fought drive to the 20-yard line, the Vipers' drive was riddled with penalties, and were not able to put any points on the board. 
The Viper's defense came out swinging though. With a sack made by senior linebacker Connor Gingg, the Verrado defense made a stand and forced Desert Mountain to punt.  No success came with a stall by the offense and a Desert Mountain touchdown right after. 
After a few drives, the Verrado defense was able to keep the score to 0-38. With some last-minute desperation, Verrado was able to put up a touchdown with a 35-yard pass to Dereice Brown. This ended the game with a score of 7-38. Erick Santiago commented on the loss: "Although we didn't reach our ultimate goal of winning we still learned some things and had small success."
Though it stung the Vipers walked away knowing that they left everything out on the field. Through penalties and touchdowns, the Verrado Vipers never stop fighting. 
View Comments(1)