Many young students aren't a fan of reading. Reading comes easy to some but others may have struggled when it came to becoming invested in a lengthy chapter book. Some want more pictures, while others prefer words. The perfect solution to meet in the middle is comic books.
Comic books have always appealed to younger audiences. Kids tend to gravitate towards books with a lot of pictures, like Junie B. Jones or Diary of a Wimpy Kid. They help those who struggle with visualization. If someone can't focus and visualize a character or scene in their head, comic books add a lot of assistance. Many school libraries carry a whole selection of comic books and graphic novels for students to choose from.
Many of these books go from light-hearted 4-panel adventures to 200 page graphic novels that dive into more serious topics. Some don't enjoy reading, but it's fun to read comic books.
Raina Telgemeier is a familiar name to many, she is responsible for writing iconic graphic novels such as Sisters, Smile, and Drama.
Her stories span from autobiography about her childhood, to fictional stories with great plots and loads of representation. Her most well-known book is Drama and Smile.
Smile is an autobiography about her experience with trying to fit in as a teen while struggling with family issues and having braces. The story begins with her having a severe accident which leaves her teeth and mouth permanently damaged. It follows her through her middle school and high school years, showcasing her personal and medical dilemmas.
The book shows the ups and downs of her life whether it was her long journey to repair her mouth, or even the issues she was facing at home. This graphic novel was insanely successful for elementary and middle schoolers. The struggles she faced can be seen as very relatable to a younger audience, especially young girls.
Drama is her most successful non-autobiographical book. This story follows a girl named Callie as she goes through the ups and downs of highschool theater and love.
This book has charming characters and isn't afraid to be very representative of different groups. This comic was very popular with older kids such as middle schoolers. It's a relatable book for teens and has even sparked a passion
Straying away from more serious books, you have Babymouse. Written by Jennifer L. Holm and illustrated by Matthew Holm, Babymouse follows a little pink mouse and her weird adventures.
The illustrations were easy for kids to grasp with a simple art style and color palette. Each page has a creative way of organizing panels and sticks to a color scheme of pink, black, and white. Babymouse was a huge hit with the younger demographic selling over 3 million copies.
While these stories don't prioritize a deep story with a message, they were very popular with young kids interested in reading and making comic books. The stories are short and funny, with the art perfectly matching the personalities and actions of the goofy characters.
El Deafo, written and illustrated by Cece Bell, is another autobiography that follows her retelling of her childhood while being deaf. The book tackles all of her struggles of living with deafness, while still representing herself as a young witty rabbit with a big imagination. The story begins as early as her being just 4 years old and learning she is deaf.
The story then continues to show her adapting to life through the eyes of a child. It is a story for not just kids but anyone of any age. With there not being much representation of deafness in literature, El Deafo can be seen as a relatable story for children who are going through the same thing.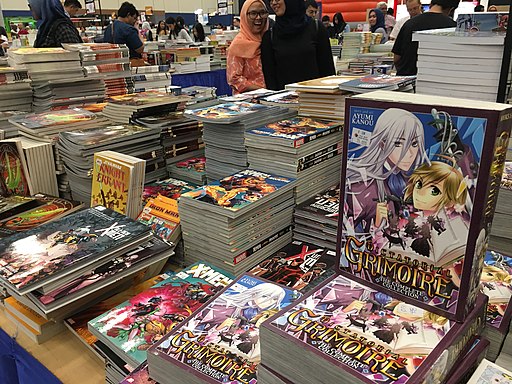 Despite all that happens to Cece in the story, she still stays hopeful and happy while letting her imagination run wild. El Deafo even got its own animated cartoon to reach an even wider audience. Many schools have this book in their library for students to check out and read.
Comic books are a very versatile genre of books. They can have an impact on the readers or just provide a good laugh. They can inspire young readers to start drawing comics of their own, or even older readers.
Aria Anderson is a lifelong comic enthusiast, she started making long and creative comics as early as 2nd grade. She says, "Growing up I was obsessed with all sorts of comics, specifically Raina Telgemeier books. Smile, sisters, drama, and ghosts were my all-time favorites and they make me feel so nostalgic and happy when I reread them. Even though they're just comics they still mean a lot to me. They're really what kickstarted my interest and obsession with comics. I even started making my own at an early age and still enjoy them."
Another childhood comic enjoyer is Allison Rosperski, she has always had a passion for art. She states, "Reading comic books growing up was always very comforting. Sunny Side Up was my all-time favorite. It was a funny book with serious tones mixed in. For example, Sunny's brother struggled with drugs and drinking. Also, her grandpa secretly smoked and both of these things bothered her. It showed how a little girl responded to these things and how she still tried to be positive. It was a sad but real look into what many people have to go through early in life."
Comic books are a great way to encourage creativity, they also provide relatable stories for young readers. Whether it's a graphic novel or a weekly comic issue in a newspaper, they always manage to have an impact on someone's life.