Viper Basketball Receives New Scoreboard
In the middle of the Vipers basketball 10 and 5 season this year, Apex Network Physical Therapy provided a generous donation to the school with a new scoreboard. Apex Network Physical Therapy is a chain company of 90 locations across 12 states with multiple branches in Arizona including one that will be right across the street from our high school.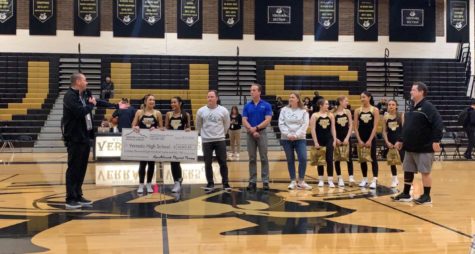 This new scoreboard is a huge upgrade. An Apex Network Physical Therapy company representative, Cade Parker, attended the Vipers game against Desert Edge and pointed out the benefits of the scoreboard and how it would help Verrado. "It [the scoreboard] makes a great centerpiece for the gym and should especially highlight the players and in turn showcase their potential."
Some of the new features include multiple jersey numbers can be displayed with a point tracker displayed for the audience to see which athletes score which points and players' fouls.