A New Student-Run Business is Spicing Up The Lives of Verrado Students
At the beginning of February, Spicy Amigas, a student-run Mexican candy business is taking the Verrado and Buckeye community by storm. When biting into a piece of Spicy Amigas candy you are first hit with a sour candy taste. Then, the spice hits when you least expect it making it a perfect balance of sugar and spice, and packing a punch even their grandmas can't handle.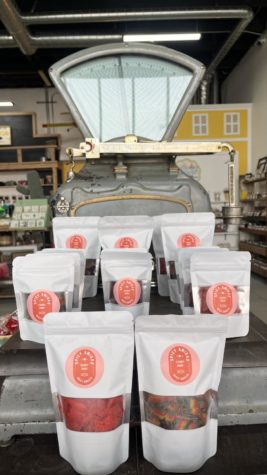 According to Madison Hachmann, their candy is "Too good. The combination of spicy and sour is something I've never thought of but it works perfectly! 10/10." Having a similar sentiment, Elizabeth Martinez says, the candy "was life-changing. It was SO GOOD. I am speechless."
Aliyah Medina, Ella Garcia, and Kate Huston first came up with the idea of the business during winter break this year, said Aliyah. "The three of us are always together, and we decided to sell something. We knew that whatever we sold we could sell it at my auntie's shop [Screws And Sparkles]."
The girls juggled several different ideas when trying to decide what they were going to sell. According to Aliyah, "We were thinking of selling mugs, but we realized that she[my aunt] already had vendors selling mugs. We realized no one sold Mexican candy, and everyone LOVES Mexican candy."
Once they decided to sell Mexican candy they began the process of figuring out how to make it. After a month of trial and error to develop a spice mix, they finally decided on a concoction of lemon, Habanero Thian, and Lucas Powder. "We would stay up LATE trying different mixtures, and we couldn't even tell if it was good," said Ella "we had to ask our parents to taste it because we couldn't taste anymore[after trying so many.]"
Three days a week they got together after school to make the candy. "One of us is opening bags, one of us is making the candy, and the other is putting the labels on the candy." They have essentially gotten it down to a science.
Since the launch, the business has taken off. They have had to restock several times since starting the business. They are hoping to expand their inventory, and do pop-up shops. According to Ella, the business grew "so fast. We didn't even tell people at first[but now] everyone is all into it."
There are lots of resources online for aspiring entrepreneurs. For example, Kate, Ella, and Aliyah designed and printed their labels on Canva. If any other student thinking about starting a business "just go for it" says Aliyah. As long as someone devotes time to their business, there will be some success. Aliyah also said, "You have to learn to not take criticism to heart…I struggled with criticism but it really helped that [her partners, Kate and Ella] did not."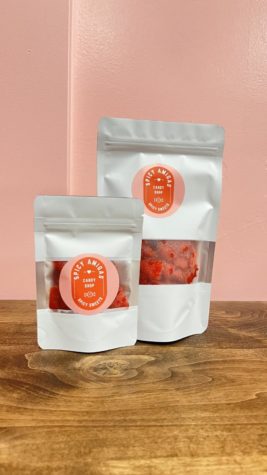 Spicy Amigas' candy is sold at Screws and Sparkles in Downtown Buckeye. They sell four dollar bags and ten dollar bags. The flavors are Spicy Sour Patch Watermelon, Spicy Fruit Gushers, and Spicy Strawberry Sour Belts. The candy goes fast, so if you want to guarantee that you get some go to Screws and Sparkles on a Wednesday or Saturday when they restock and follow their Tik Tok and Instagram @spicyamigas for giveaways and updates on inventory.
Leave a Comment