Elvis Presley
From Poor Country Boy to the King of Rock n' Roll
—
January 8th, 1935, Gladys Presley births two twin boys, however, something went wrong with one of the boys. Jessie Garon Presley died stillborn, leaving Elvis Aaron Presley an only child. Gladys believed when Jesse died, Elvis had gained the strength of two men. Elvis' strength proved true throughout his life and legacy, from being a poor mama's boy to the king of Rock and Roll.
Elvis grew up extremely poor, and his family struggled to put food on the table. His father went to prison just three years after Elvis' birth for forging a 4$ check. The Presley family practically moved from house to house before the month's rent was due. In school, Elvis was known to be extremely shy and insecure, and older classmates liked to pick on him for hardly ever saying anything and being such a mama's boy. It wasn't until his sophomore year of high school that his love for music began to grow.
Elvis and his parents began attending church regularly at the Assembly of God Church in south Memphis. In the church, gospel music entranced the young boy and thus opened his eyes to the beauty of music. After school, Elvis would tune into radio stations and listen to the voices of Arthur 'Big Boy' Crudup, His Six Ice Cold Papas, Fairley Holden, B.B. King, and many other country and black artists.
Elvis was gifted a guitar for his 11th birthday, and while it may have seemed he'd be able to pick up on the talent easily, the opposite was true. Jesse Lee, son of Reverend J.J Denson was elected to teach Elvis guitar. Jesse had quite a difficult time teaching Elvis how to play, the young boy could hardly plunk out a tune. It wasn't until many years later that Elvis could finally play along to the songs he sang. Before stardom, Elvis was extremely timid, couldn't dance, and could hardly sing in front of people. Elvis was known for playing and singing in the dark, where nobody could see him.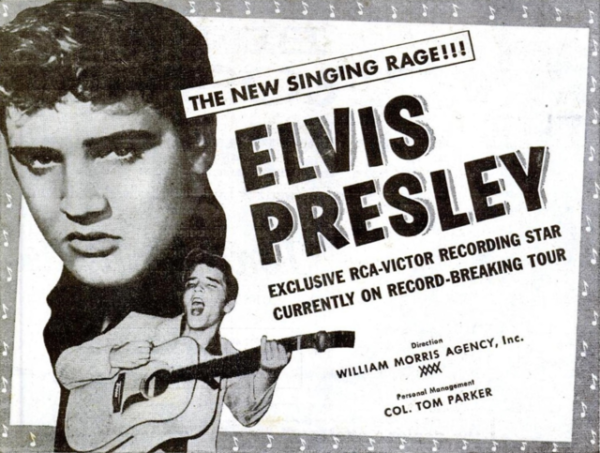 Elvis' first hit song was on a double-sided record with only two songs: "That's All Right, Mama"(Arthur 'Big Boy' Crudup) and "Blue Moon of Kentucky" (Bill Monroe). He recorded this song alongside Scotty Moore and Bill Fitzgerald at Sam Philips' Sun Records. The record was a hit and was played on almost every radio station in Tennessee, and it didn't take long for the record to spread across the South.
While Elvis' record became popular, it was his dancing that gained most of the attention. His gyrations and wiggling onstage became a topic of negative conversation in the papers and ultimately gave him his nickname 'Elvis the Pelvis.' Some even criticized the young performer and labeled his black-inspired rhythm and blues-style music as satanic and the work of the devil. To combat this new image for the young singer, he enlisted in the U.S. Army as advised by his manager. His team continued to release music for him while he was away, and in the Army, he met his soon-to-be wife, Priscilla Ann Beaulieu.
Before Elvis went to the Army, he purchased Graceland for his family on March 19th, 1957. He never sold the house, and both he and his mother died in the house. Graceland is open to the public as a museum, and each room of the house is unique in its own way. Graceland was a beautiful home that sheltered many beautiful memories for Elvis and his family.
While Elvis was deployed, his mother, Gladys, passed away from a heart attack. She was heartbroken without her son, and many believed that her worrying for her son might have killed her. Her death crushed Elvis, and he seemingly never recovered from her passing. Gladys' room in Graceland has never been changed since she died.
Elvis married Priscilla in 1967 on the 1st of May. Priscilla soon found out she was pregnant with their first and only child, Lisa Marie Presley born in 1968. Elvis and Priscilla divorced in 1973, and Elvis never remarried. Their love never faded, and Priscilla still visits Graceland to this day.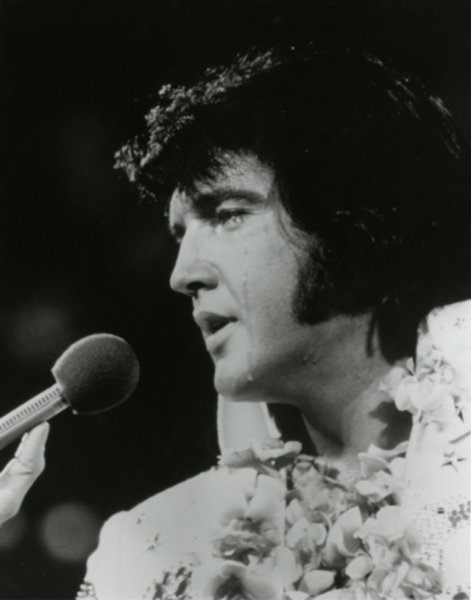 Elvis' dream was always to become a big actor. The only way, however, that his movies would do well is if he would sing in them. The world was more interested in his music than his acting. Elvis starred in 31 movies and sang in almost all of them.
Elvis went on to perform at the International Hotel in Las Vegas, where he continued to play every year for the remainder of his life. This is why many people today get married by Elvis lookalikes in Vegas.
Elvis Presley died on August 16th, 1977, of drug abuse and unhealthy eating habits. He was only 42 years old. His death shook the world, with many people commemorating him at Graceland and scattering flowers all over the property. Elvis was buried alongside his mother at Graceland.
His legacy lives on today, and he will forever be remembered as the King of Rock and Roll.