The quarterback is one of the most important positions in the NFL. As the leader of the team's offensive unit, the quarterback plays a critical role in determining the progress and success of the team's offensive strategy.
In the modern NFL, there's a wide variety of quarterback styles. Some, like Tom Brady, are known for their pocket-passing abilities. They excel at staying in the pocket, reading the defense, and making accurate throws.
Others, like Lamar Jackson, are known for their incredible running abilities, adding an extra level of threat to the offense.
Many different QBs affect the game in many different ways, with that being said, here are the rankings for the 2023-24 season :
(Keep in mind, overall team success and Wide Receiver core play a part in the rankings)
32. Desmond Ridder – Atlanta Falcons
Dead last, we have Desmond Ridder. RIdder played a whopping 4 games last season, going 2-2 while throwing 700 yards, 2 touchdowns, and 0 interceptions. While that may not look too bad on paper, there's always more to it than that.
In the off-season, the Falcons seemingly decided to do just about everything they could to avoid QB usage next season.
They already had a below-average defense and are now more of a Running Back team with Bijan Robinson and Cordarelle Patterson. In the receiving core, you have a below-average Drake London paired up with Kyle Pitts who is likely becoming notorious for being injury-prone.
Pair all of this with the fact that this will likely be a year for them to try and lose a lot to get a better draft pick, and it doesn't look too good for Desmond Ridder.
31. CJ Stroud – Houston Texans
Similar to Desmond Ridder, CJ Stroud has quite a bad setup awaiting him this season in Houston.
Some argue that CJ Stroud may not even be ready to start for the team and would like to see Davis Mills start while Stroud gets some reps during games and develops a better feel for the NFL.
The Texans have very likely regressed since last season. After losing their star wide receiver, Brandin Cooks, to the Dallas Cowboys, the Texans are also looking like a very run-dominant team.
So, while Dameon Pierce and Devin Singletary look to have good years abusing the running back position, the Texans still don't seem to have anyone for CJ Stroud to throw to.
30. Bryce Young – Carolina Panthers
We finally have a quarterback with slight potential for next season. Luckily for Young, he has a team that seems to have at least a general idea as to what they need to do in order to succeed.
The Carolina Panthers will definitely not be a run-heavy team, which is good for Young himself, but still not necessarily great for the team.
During the off-season, the Panthers did him a favor by adding receivers Adam Thielen and DJ Chark to the lineup, however, there are still some gaps to fill.
The biggest issue that Young is currently facing is his size. Bryce Young is 5'10 and 205 pounds, making him not only one of the shortest quarterbacks but also one of the lightest.
The second concern is how weak the team around him is. While they do have decent receivers, there is a lot of work to be done with running backs, the offensive line, and the defensive unit as a whole.
29. Anthony Richardson – Indianapolis Colts
As strange as it is, a Colts quarterback on a currently run-heavy team has the best setup so far.
For starters, the Colts had the 18th-ranked offensive line last season and many speculate that they could've been in the top 10 had they performed to their full extent, pretty big "what if", but I guess we can go with it.
The Colts team is led by "star" running back Jonathon Taylor, which is another big reason why Richardson is ranked so low.
Taylor has been known for his incredible rushing skills but is quite bad when it comes to receiving. However, Taylor is looking to be leaving or not playing for the team, giving Richardson the advantage.
Another thing that helps Richardson this upcoming season is star wide receiver Michael Pittman Jr. Last season, Pittman had an impressive 925 yards and 4 touchdowns along with some attention-catching highlights. Pittman is often regarded as one of the better receivers in the league and could definitely help Anthony Richardson in his rookie season.
28. Jordan Love – Green Bay Packers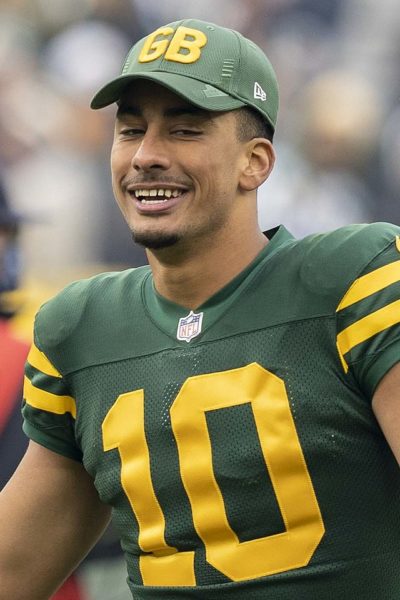 Jordan Love has MAJOR shoes to fill, not only next season but potentially throughout the rest of his career.
Love was selected 26th overall in the 2020 NFL draft, yet he still has not started in an NFL game. Throughout the past couple of seasons that he has been in the league, Love has been sitting out every game, forced to watch as Aaron Rodgers got about 100% of the playing time.
However, with A-Rod now gone, a new chance has arisen for Jordan Love, and lucky for him, he actually has a pretty decent setup going into this year.
One thing that could potentially hold Love back is the fact that the Packers definitely have the potential to be a run-heavy team.
With Aaron Jones and AJ Dillon splitting carries, you have two guys who both have the potential to be the first option on many other teams. However, they can both make some noise on the receiving end as well, which is great for Love.
As well as their strong running back core, the Packers have a decent wide receiver core put out for Love with Christian Watson, Romeo Doubs, and Jayden Reed. While it might not be the best receiver core in the league, it should be plenty to set the stage for Jordan Love's career.
26. Sam Howell – Washington Commanders
This one might definitely be upsetting to some people, but from a realistic standpoint, this makes complete sense.
The Commanders are definitely not a top-contending team, nor is Howell a top-tier quarterback. However, the team is set up enough for him to be decent and simply looked over rather than discouraged by the media.
Last year, the Commanders finished the season 8-8-1 and were as average of a team as this league has seen, yet many fans still have quite high expectations for this team and, to be fair, they don't have the worst setup by any means, they have a good defense, running back core, and receiver core.
The running back core consists of Brian Robinson and Antonio Gibson, two very athletic, quick, and shifty players. Last year both of them had rather successful years individually, regardless of how the team did.
As for the receiving core, many fans speculate that they may be in the top 5 best by the end of the season, even with Sam Howell. It currently consists of Terry Mclaurin, Curtis Samuel, Jahan Dotson, and the impressive 4th string receiver Byron Pringle.
So, while we shouldn't expect much from Howell, he could definitely put out an average season.
25. Derek Carr – New Orleans Saints
This one may definitely come off as a surprise to many people, which in all fairness is understandable. However, there is always potential to go off of.
Derek Carr is the Saints newest quarterback attempt since losing Drew Brees, and while that probably won't last too long, he could definitely make himself known in New Orleans.
For the last 2 years, Derek Carr has not been the most successful but still has been quite overlooked. He has had a total of 8,326 yards, 47 touchdowns, and 28 interceptions. Not too bad if you're willing to give him some credit.
Last year, Carr was teamed up with star receiver Davante Adams on the Las Vegas Raiders, contributing majorly to his success, mainly with touchdowns. This year, however, Carr is paired up with Chris Olave and Michael Thomas on the receiving end, as well as Alvin Kamara (suspended) and Jamaal Williams on the running side of the offense.
Now, this could honestly have some decent potential if the players would simply just play.
Michael Thomas is the first example with how injury-prone he has proven himself to be. Over the last three seasons, Thomas has seen an unreal total of 5 injuries, holding back him as well as his quarterbacks.
In all fairness, being injury-prone is one thing, but being injury-prone AND having behavioral issues off the field is a whole other thing. Unfortunately, Alvin Kamara has begun to fall into that category as he has regressed over the past few years.
So really, it's all up to the players individually to see how this team does with Derek Carr.
24. Baker Mayfield – Tampa Bay Buccaneers
Here it is, the big hot take of the list! Or one of them at least…
Baker Mayfield being this low on the list could be a bad idea for 2 reasons, he could do WAY better than expected, or, he could do WAY worse. Regardless, Baker has the best setup that a quarterback trying to revive their career could ever ask for.
Almost every aspect of this team could be talked about in a positive way, and luckily for Baker, the receiving core specifically stands out. You have Mike Evans, Chris Godwin, Trey Palmer, and Russell Gage after he returns from injury.
As for the running backs, you have Rachaad White paired up with Chase Edmonds, a very underrated duo who could make a big team impact splitting carries.
The O-line and defense are both great as well, and what many people are failing to realize is that this is an extremely similar Bucs team to the Super Bowl winners, just now with Baker Mayfield. It'll be up to him to decide his future.
23. Justin Fields – Chicago Bears
2 words. OVER. RATED.
Now don't get me wrong, Fields isn't the worst and overhating IS an issue with him, but after last season, he can most definitely also be considered overrated. Ask any Bears fan and you'll hear "We'll win our division" or "Fields for MVP", Let's be realistic.
To be fair, the Bears offense did improve drastically over the off-season picking up some receivers in an attempt to help Justin Fields this year. The Bears receiving core consists of Chase Claypool, Darnell Mooney, and DJ Moore, three athletic receivers who can all make at least a small difference on the field.
As for rushing next season, you have Khalil Herbert, D'Onta Foreman, and funny enough, Justin Fields.
Last year, Justin Fields totaled a rather disappointing 2,242 yards, 17 touchdowns, and 11 interceptions. However, what made Fields stand out was the fact that he also had 1,143 rushing yards along with 8 touchdowns. The second most rushing yards came from their MAIN running back, as in the main person supposed to run the ball, David Montgomery and he had about 300 less rushing yards than his quarterback.
Now, while that is obviously very impressive from a quarterback, that's not exactly his job. Fields will once again have a good rushing year, and while he will improve on the throwing side, interceptions and incompletions will prove to be a struggle.
22. Matthew Stafford – Los Angeles Rams
The L.A. Rams have had quite a ridiculous downfall. Two years ago, the Rams were facing up against the Cincinnati Bengals in the Super Bowl which they went on to win. Last season, the Rams ended it off 5-12, not even close to another Super Bowl.
As for Matthew Stafford, last season definitely was not his best, and he likely won't be bouncing back too much.
Unfortunately, Matthew Stafford is becoming very injury-prone, likely due to age, and last season he missed about 8 games due to injuries. This season, however, Matthew Stafford has a pretty decent chance of bringing this team to a better record as well as trying to hopefully revive the Super Bowl dream.
This season, Stafford is paired up with the receiving trio of Cooper Kupp, Van Jefferson, and Tutu Atwell.
In all honesty, this is most definitely not a bad receiving core. You have Cooper Kupp who had arguably the best season from a receiver of all time a couple of years ago, Van Jefferson who is a very underrated 2nd string, and Tutu Atwell looking to get his number called more in his second year of playing.
As for running backs, Cam Akers left lots of fans rather underwhelmed and upset last year after what many believe to have been a letdown of a season, which does add to the wide receiver's potential.
21. Mac Jones – Patriots
When looking at quarterbacks in the NFL, it is very easy to overlook Mac Jones. However, this season, Jones has quite the opportunity to put the league on notice.
Mac Jones struggled quite a bit last season, having to deal with an ankle injury, a poor supporting cast, and a terrible coaching staff. Luckily for Jones, his team is making lots of effort to hopefully have an amazing season. For starters, hiring Bill O'Brien to bring leadership as the new OC.
Last season, Mac Jones threw for 3,000 yards and 14 touchdowns with an impressive 65% throwing accuracy, however, he did throw for 11 interceptions which fans were very concerned about considering he had so few touchdowns to follow them up.
In his defense, as mentioned earlier he did NOT have very good receiving options last year. This year will be very different though, over the off-season, the Patriots have built quite a receiving core as well as running.
For receivers, you have the recent Super Bowl winning JuJu Smith-Schuster paired up with Kendrick Bourne and DeVante Parker. Although it may not be a top receiving core in the league, it is a major upgrade.
As for the running game, last season it was the key to their "success" and it has also gotten better along with the receiving core.
Last year, Rhamondre Stevenson was the rushing leader for the team with 1,040 yards and 5 rushing touchdowns. Stevenson alone could certainly make some noise on the field, but he also now has Cowboys former running back Ezekiel Elliot to work with.
All this equals out to a pretty scary-sounding Patriots offense with Mac Jones next year.
20. Ryan Tannehill – Tennessee Titans
Tennessee will likely be a run-heavy team once again, but Ryan Tannehill got a lot more interesting with the arrival of star receiver DeAndre Hopkins.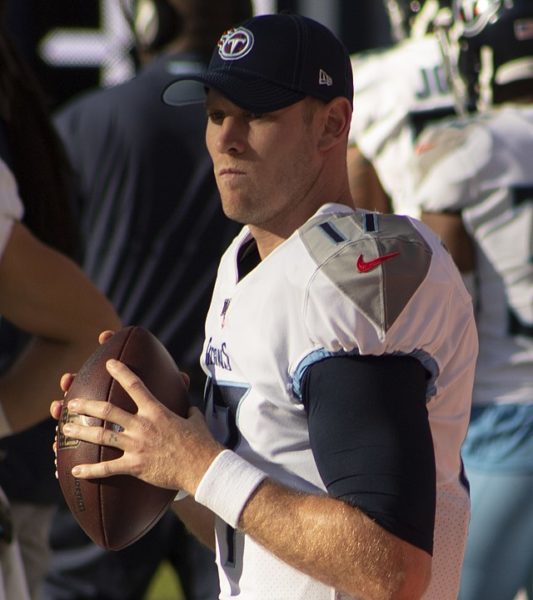 In all honesty, Tannehill has never been known as one of the best quarterbacks in the league, but with the new addition of D-Hop, it's not too crazy to have him at 20 considering the team has improved since last season.
Hopkins, along with 2022 first-round WR Treylon Burks and returning receiver Nick Westbrook-Ikhine, give Tannehill a much better chance at success this upcoming season as last season he was ranked 24th for QBR.
As for the run game, you have the absolute beast Derrick Henry ready to lead the way. Last season, Henry recorded a total of 1,936 yards and 13 touchdowns in 16 games played. He led the league in running back touchdowns and was second place for yards, so you can definitely expect good things from him.
Overall, seeing as you can practically just throw the ball in the air and expect D-Hop to catch it, Tannehill shouldn't struggle too much in succeeding.
19. Jimmy Garropolo – Las Vegas Raiders
Jimmy Garropolo has had quite an interesting career. Coming into the league, he was backup for prime Tom Brady, the best quarterback to ever see the field, so many had quite high expectations for him considering the core around him. However, after things didn't fully work out, he was traded to the 49ers where he became unbelievably injury-prone.
As for the Raiders, they have had to deal with Derek Carr for the last few years which is not something you like to see as a fan. And unfortunately for fans, it's hard to determine if they even upgraded with Jimmy.
Jimmy Garropolo has had major team success in the past few seasons, you can't argue that, but what you can argue, and very easily so, is that he really had nothing to do with the success of the team since 2019. The 49ers have easily had one of the best all-around teams, and quite honestly, a high school quarterback probably could've gone far with that team.
Now, Jimmy G definitely has quite a nice offense around him, but it is NOTHING like he had before. On the receiving end, you have Davante Adams, who is arguably the best in the league, paired up with Jakobi Meyers and Hunter Renfrow. Not a bad receiving core at all.
As for the run game, you have Josh Jacobs who could most definitely have another great season if he decides to stop crying about his paychecks. You're making millions to play football, do better.
All around, it's honestly hard to say how this team will do next season, but don't get your hopes up.
18. Russel Wilson – Denver Broncos
After a long and miserable season last year, the Denver Broncos and Russell Wilson are praying for a better year, and the prayers could potentially be answered.
Last season, while Russell Wilson did not have the worst stats, he definitely needed the year to adapt to the team. On top of that, the coaching was definitely not the best either. The Broncos would end the season 5-12, their worst record since 2010.
So, what's different about this year?
This year, the Broncos have acquired new head coach Sean Payton, formerly known for his time with the Saints.
Payton looks to lead this team out of their major slump and seems to have all the tools to do so. Helping Russell Wilson on the receiving end are Jerry Jeudy and Courtland Sutton, who both managed to have decent seasons last year as well as Javonte Williams, their starting running back.
So while it's safe to say that there's a lot of potential to be unlocked, it isn't the safest to bet on Russ this season.
17. Deshaun Watson – Cleveland Browns
Coming in with a slightly hot take, but hear it out.
Over the last couple few years, Deshaun Watson has been under fire with lawsuits and criticism that came from it. After dealing with the court case for the last 2-3 years, it was decided that he would have an 11-game suspension and a $5 million fine. Additionally, he would undergo a professional evaluation by behavioral experts and will follow their treatment program.
Coming back from not playing for a few years, Deshaun Watson understandably did not look like his old self anymore. However, many people forget what the man was capable of.
In 2020, the last time he played a full season, he stacked up 4,823 yards, 33 touchdowns, and only 7 interceptions on 70% completion. In case you don't watch football, that is an insanely good stat line. In that year, he was the only quarterback in the world on Patrick Mahomes level, if not better!
This year, he is paired up with quite the offensive unit.
For the receivers, you have Amari Cooper, Elijah Moore, and Donovan Peoples-Jones as well as David Njoku at tight end. Overall a very solid list of players for Deshaun to throw to. As for the run game, you have a top 3 running back in Nick Chubb.
16. Daniel Jones – New York Giants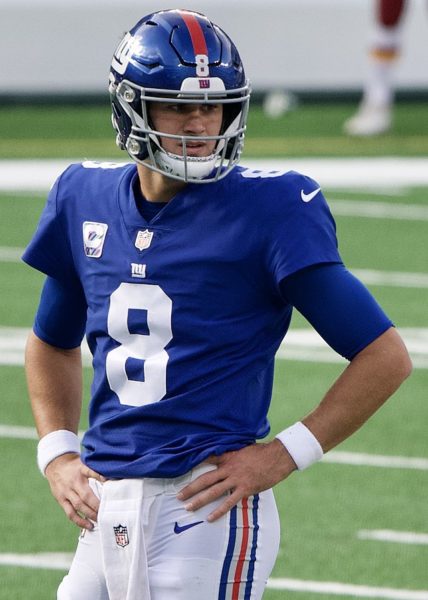 Daniel Jones is what I'd like to call a 50/50 quarterback, 50% of the league loves him and thinks he's heavily underrated, while the other 50% seem to think they hear about him too much and prefer not to since they think he isn't good. Both are wrong. Daniel Jones is quite literally THE average quarterback, hence being right in the middle of the list.
Jones has never had a season over 3300 yards, but he is definitely improving as of last year. Last year was arguably his best season, and though the Giants as a whole didn't do too great, Jones showed the league that he can keep up and support his team by having 3,205 yards, 15 touchdowns, and only 5 interceptions.
This season, the Giants will very likely remain a more run-oriented team as last season star running back, Saquon Barkley, had quite an impressive year racking up 1,312 yards and 10 touchdowns.
However, the Giants do have more passing weapons this year.
Returning to the team are receivers Isaih Hodgins along Darius Slayton, both of whom had decent stats last year. As for new talent, you have Darren Waller from the Raiders who is regarded as one of the better tight ends in the league as well as receiver Jalin Hyatt, possibly the most underrated player in the draft.
Even with all this, however, the Giants and "Danny Dimes" will likely remain average at best this upcoming season.
15. Kenny Pickett – Pittsburgh Steelers
Kenny Pickett seems to be a decently hot topic around the league right now, as well as the Steelers as a whole. Many NFL fans around the world are sparking up talk of them having a majorly successful breakout season, and for good reason.
Last season was quite rough for Pickett and the Steelers. For starters, Pickett didn't have an easy start to his year as he was a rookie fighting for his starting spot against Mitchell Trubisky.
Ultimately he won the battle, obviously, but then came the more complicated part of his job, making the Steelers look like a good team.
Pickett started for 13 games last season and racked up a total of 2,404 yards and 7 touchdowns. While he didn't have any games with multiple touchdowns and only had four games with 200+ yards, he began to really pick it up toward the end of the season after OC Matt Canada decided to switch things up for him.
When it comes to the team around him, it's looking like he has nothing to worry about.
For the receiving core, you have George Pickens who seems to have a highlight reel every game, Diontae Johnson who will have an absolute breakout year, the efficient third-string Allen Robinson, and one of the most underrated tight ends in the league with Pat Freiermuth.
Paired up with them on the running end you have Najee Harris, who had quite the decline last year but could certainly bounce back.
The defense is just as good if not better than the offense, making it look like a dominant year for Pittsburgh.
14. Brock Purdy – San Francisco 49ers
Definitely the biggest surprise from last year, 49ers quarterback Brock Purdy was known as "Mr. Irrelevant" after being the very last pick in the 2022 draft.
Normally, you can expect just about nothing from a player drafted dead last, however, Purdy absolutely destroyed all expectations after going off in the 9 games he played, including the post-season.
In his first 9 games, Purdy recorded a total of 1,374 yards, 13 touchdowns, and 4 interceptions. Lucky for Purdy, he has probably the best all-around team supporting him.
At the receiving core, you have Deebo Samuel, Brandon Aiyuk, Jauan Jennings, and George Kittle at the tight end spot. Each of these players was absolutely electric last year and will be this year as well.
As for the run game, you have Christian McCaffrey, the best running back in the league, paired up with Elijah Mitchell who was quite amazing before the McCaffrey trade where he would begin to lose reps.
On top of all of that, you have at least a top 3 defense in the league. So, to shorten this, do NOT bet against the Niners, cause you'll probably see them in the Super Bowl.
13. Geno Smith – Seattle Seahawks
Back-to-back under appreciated quarterbacks.
Just like Purdy, Geno was a player who had to step in unexpectedly, yet was still able to impress the world. After a blockbuster trade between the Seahawks and Broncos, the Seahawks would lose veteran quarterback Russel Wilson, leaving the Seahawks to decide between Geno and Drew Lock.
Luckily, the Seahawks chose correctly. Last season Geno threw for 4,282 yards, 30 touchdowns, and 11 interceptions. Not only is that insanely impressive by itself, but considering the situation Geno was in, it's quite literally unbelievable.
This year, he'll operate in the same pass-leaning offense piloted by OC Shane Waldron. He returns star receivers D.K. Metcalf and Tyler Lockett, and the Seahawks added receiver Jaxon Smith-Njigba as well.
For the running game, you have second-year player Kenneth Walker paired up with Zach Charbonnet, who they got in the first two rounds of this spring's draft.
Overall, it's looking to be a great year for Geno and the Seahawks.
12. Jared Goff – Detroit Lions
Expectations for Jared Goff were low entering 2022, and he not only exceeded them but put together an impressive season.
Before he arrived, the Lions were known for being quite awful with Matthew Stafford, and now that Goff is on the team, he looks to continue turning things around. During the 2022 Season, Goff was able to bring in 4,438 yards, 29 touchdowns, and only 7 interceptions.
Detroit added no challenge to his 2023 role and will get 2022 first-round receiver Jameson Williams back into the lineup along with star Amon-Ra St. Brown and Marvin Jones Jr. The Lions also added strong receiving RB Jahmyr Gibbs in Round 1 this year to go along with David Montgomery.
Goff also has quite a great coach in Dan Campbell, who many think could be Coach of The Year.
Now, while you shouldn't expect to see the Lions in the Super Bowl, you can expect to see them having a great regular season.
11. Trevor Lawrence – Jacksonville Jaguars
Trevor Lawrence finally got a chance to prove himself last year after Urban Meyer ruined his rookie year, and he did not disappoint.
Lawrence would end up throwing for 4,113 yards, 25 touchdowns, and 8 interceptions, making himself known as a solid quarterback and setting the expectations high for next year.
Luckily for Lawrence, he has an absolutely amazing offense to work with this year. At the receiving end, you have Christian Kirk, Zay Jones, and Calvin Ridley who is projected to be an absolute beast this year.
As for the run game, you have Travis Etienne Jr. paired up with the exciting rookie Tank Bigsby.
Many fans are speculating that the Jaguars will be making it pretty far this year, however, it isn't the most convincing thing, but we will have to wait and see.
10. Justin Herbert – Los Angeles Chargers
Justin Herbert has made quite a name for himself in the league since he started playing in 2020. Just last season, he was able to bring in an astounding 4,739 yards and 25 touchdowns.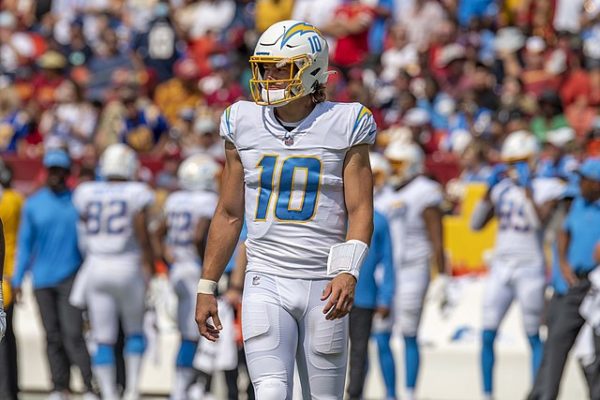 Unfortunately, Herbert dealt with injuries to receivers Keenan Allen and Mike Williams, resulting in his flukily low TD rate last year.
This year the offense remains basically the same, you have Keenan Allen, Mike Williams, and Josh Palmer at the receiving end, as well as Austin Ekeler and Joshua Kelley for the run game.
Now, while Herbert has certainly solidified himself as a very talented quarterback in weeks 1-17, many fans try to not expect much from him in the post-season. In Herbert's very impressive three-year career, he has made it to the playoffs just once and lost.
This year, he looks to take the Chargers all the way.
9. Kirk Cousins – Minnesota Vikings
Here we have one of the more confusing quarterbacks in the league.
Kirk Cousins seems to have a cycle every season for the past few, fans become optimistic in the pre-season, he starts off pretty strong, he gets mentioned in the MVP talk, and then he falls short of doing anything at the end season. Now with that being said, he's still not necessarily a bad quarterback.
Kirk is a very lucky quarterback, as he had a ROUGH start to his career, spending about 5 bad years with Washington.
Kirk's big break would come in 2020 after the Vikings were able to acquire wide receiver Justin Jefferson, who is arguably the best in the league.
Over the past 3 years, Jefferson and Kirk have been a dynamic duo and Jefferson has brought in 4,865 yards and 26 touchdowns, giving him an amazing career start.
Along with Jefferson, Kirk also now has rookie receiver Jordan Addison, returning receiver K.J. Osborn, and fairly new tight end TJ Hockenson. As for the run game, you can expect a big year from Alexander Mattison as he is the brand-new RB1 after the Vikings got rid of Dalvin Cook.
In conclusion, Kirk has EVERY weapon needed to have a top 5 offense, it's just a matter of if he produces.
8. Tua Tagovailoa – Miami Dolphins
One of the absolute most hit-or-miss quarterbacks this year, and unfortunately, it's not entirely in his control.
In case you're confused, Tua's year doesn't entirely depend on things he can control, it more so depends on what his body can handle.
Since starting in 2020, Tua has had to deal with 6 injuries, 2 of which looked like they could have been season or even career-ending. More specifically week 4 of the 2022 season, where Tua got a concussion that knocked him unconscious and left a scary reaction.
However, even with all that, if Tua is able to stay healthy, the Dolphins are very likely a top contender for the next Super Bowl.
The offense is led by the receiving core, starting with Tyreek Hill, who many (including myself) believe to be the league's best receiver. Hill is also paired up with Jaylen Waddle and Cedrick Wilson, 2 more amazing receivers.
As for the run game, you have the league's most underrated running back core with Raheem Mostert and Jeff Wilson Jr., both of whom could have potential breakout years.
7. Aaron Rodgers – New York Jets
At last, he finally left and gave himself a chance.
For the last 18 years, we have seen Aaron Rodgers paired up with the Green Bay Packers where he had an absolutely amazing career.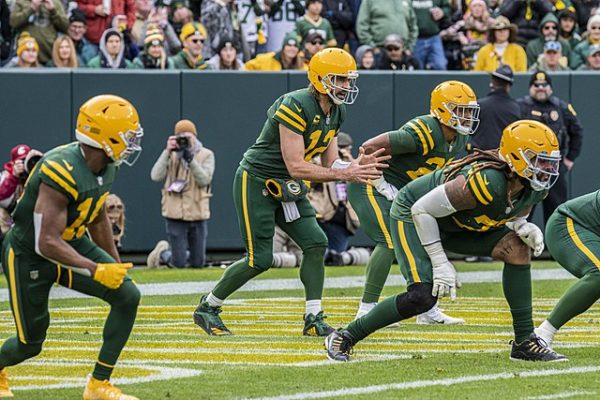 Throughout his career, Rodgers has racked up a total of 59,055 yards, 475 touchdowns, and 105 interceptions. He also was able to bring in 4 MVP awards and many other awards. Rodgers is known as one of the very few quarterbacks to ever be in comparison to Tom Brady and in the GOAT debate with him.
This year, Rodgers looks to add a 5th MVP to his name as well as a ring after being added to an absolutely STACKED offense.
Starting with the receiving end, you have Garrett Wilson, Allen Lazard, Mecole Hardman Jr., and Randall Cobb. Each of these receivers hope to have breakout years, and it is possible for every one of them with Rodgers leading the way.
As for the run game, you have Breece Hall paired up with the recently added Dalvin Cook. This running-back duo could very easily be the best in the league and is highly anticipated.
6. Dak Prescott – Dallas Cowboys
Dak Prescott has been one of the most overhated names in football for the last couple of years, and he is ready to prove himself this year.
Going into this season, Dak likely has more pressure on his shoulders to succeed than anyone else in the NFL. It was already bad enough for him knowing that one more bad season could send him on his way, but with the addition of Trey Lance, the Cowboys put quite a bit of pressure on Dak to succeed.
Dak, unfortunately, dealt with many injuries last year, resulting in him only playing 12 games in which he combined for a total of 2,860 yards, 23 touchdowns, and 15 interceptions.
Many fans are very concerned with the amount of interceptions he had which is completely understandable, however when you look at the last full season he played, you see stats like 4,450 yards, 37 touchdowns, and only 10 interceptions.
And to help his case more, if there was a year where the Cowboys could win the Super Bowl, it's this year.
The Cowboys have a stacked offense this year with CeeDee Lamb, Brandin Cooks, Michael Gallup, Jalen Tolbert, KaVontae Turpin, AND Jalen Brooks all in rotation on the receiving end as well as Jake Ferguson at the tight end spot.
As for the run game, you have the electric Tony Pollard paired up with the amazing-looking rookie Deuce Vaughn, who many fans are excited to watch as he looks to change the game. Pair all this with a top 3 defense in the league, and it looks to be an exciting year.
5. Lamar Jackson – Baltimore Ravens
For the last few years, Lamar has been one of the favorites when it comes to quarterbacks and even just NFL players in general.
In 2019, Lamar set himself as one of the big faces in the league after having an MVP season with 3,127 passing yards, 1,206 rushing yards, 36 passing touchdowns, 7 rushing touchdowns, and only 6 interceptions to compliment that. An absolutely unreal season.
Since then, Lamar has been on and off the field with injuries, holding him back from showing the league what he can really do, and although he was able to have a good year while he wasn't injured last season, he looks to really put the league on notice this year.
This season, Lamar has a lot more to work with, having Rashod Bateman, Odell Beckham, rookie Zay Flowers, and tight end Mark Andrews to receive for him as well as J.K. Dobbins and Gus Edwards on the rushing side of the offense.
Considering Lamar has never had this amount of weapons to throw to and work with, it should be very exciting to see what he does as long as he can stay healthy.
4. Josh Allen – Buffalo Bills
Josh Allen is unfortunately starting to become slightly overrated, as last season he could likely have been number 2 on this list. However, he still has a chance to turn things around.
Last year, Allen threw for 4,283 yards and 35 touchdowns along with 14 interceptions, which many fans have been all over him for. Unfortunately for the Bills, they typically always look good with Allen leading the way until the end of the season.
This season, Allen and the Bills look to change the narrative and hopefully win it all, which is very possible. Leading the offense you have Stefon Diggs who is arguably the best receiver in the league paired up with Gabe Davis and Khalil Shakir, as well as Dawson Knox at tight end.
For the run game, you have the duo of James Cook and Damien Harris who look to make a big addition to the team. The Bills will likely remain a pass-heavy team, but you can definitely expect to hear their names this season.
As for Josh Allen individually, he looks to take his team further than usual and prove to the league that he has what it takes.
3. Jalen Hurts – Philadelphia Eagles
"Could've should've would've been the Super Bowl champion if this and that happened". Just want to clear this up, he lost fair and square.
Now that that's out of the way, yes, Jalen Hurts IS very good and will have a great season this year just like he did last year.
Last year was an amazing breakout year for Hurts, both passing and rushing.
For passing, Hurts had 3,701 yards, 22 touchdowns, and only 6 interceptions. As for his rushing, Hurts ran for 760 yards and an impressive 13 touchdowns.
This year you shouldn't expect him to slow down any as his team looks pretty amazing. At the receiving end, you have A.J. Brown, DeVonta Smith, and Dallas Goedert at the tight end spot. One of the best pass-catching trios in the league.
On the running end, you actually have 3 different players who could make some noise with D'Andre Swift, Rashaad Penny, and Kenneth Gainwell.
You can definitely expect a big season from Hurts, and maybe even a Super Bowl.
2. Joe Burrow – Cincinnati Bengals
This really shouldn't come as a surprise to anyone, Burrow is easily in the top 2.
In just his second year in the NFL, Burrow threw for 4,611 yards, 34 touchdowns, and 14 interceptions while also leading his team all the way to the Super Bowl where they unfortunately fell short.
Last season, Burrow threw for 4,475 yards, 35 touchdowns, and 12 interceptions. He was able to bring his team all the way to the conference championship last year, however, he ultimately fell short to the Kansas City Chiefs.
Luckily, his team really hasn't changed much since the Super Bowl, so Burrow gets to run it back with the same squad.
At the receiving end, you have Ja'Marr Chase, Tee Higgins, and Tyler Boyd, arguably the best receiving trio in the league. And on the running end, you still have Joe Mixon, who could always have a breakout season.
You can definitely expect to hear a lot about Burrow this season and I would strongly recommend not betting against him as he could very likely be holding the Lombardi trophy after this season.
1. Patrick Mahomes – Kansas City Chiefs
This one REALLY should not be a surprise by this point. The absolute best quarterback in the league.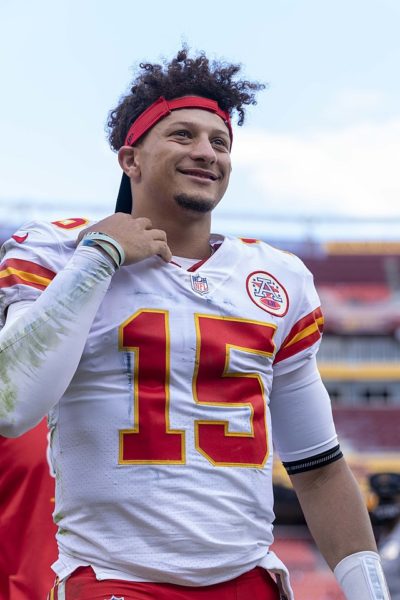 Over the last few years, Mahomes has absolutely changed the league and taken over as the best, and many argue that he is the future GOAT.
Last year, Mahomes had an absolutely unreal year with 5,250 yards, 41 touchdowns and, only 12 interceptions. On top of that, he was the Super Bowl champion, ya know, no biggie.
Mahomes easily had what I believe to be one of the most underrated quarterback seasons ever, and he isn't expected to slow down this year.
This upcoming season, Mahomes gets to work with receivers Kadarius Toney, Marquez Valdes-Scantling, Skyy Moore, and Travis Kelce, who is definitely the best current tight end but is now also arguably the best of all time.
As for the run game, the Chiefs are another team with a rare 3 man-run rotation. The Chiefs will be using Isiah Pacheco, Jerick McKinnon, and Clyde Edwards-Helaire, all of whom had a very large impact on the team being so successful last season.
As for the Super Bowl next season, this list definitely should prove that there will be many options and possibilities as to who can win it all, but if you had to narrow it down to one guy, Mahomes is him.