Santa Cows!
With the Holiday season coming fast lights line the streets, restaurants bring out their holiday specials, and cows wear their Santa hats. That's right this year 4H has once again struck with their only fundraiser of the year, Santa Cow. The Out West General Store in Wadell was generous enough to allow them to host the fundraiser in their parking lot, where they fundraise for money they use to enter competitions, fund club meetings, and trips, and pay for uniforms and other needed items.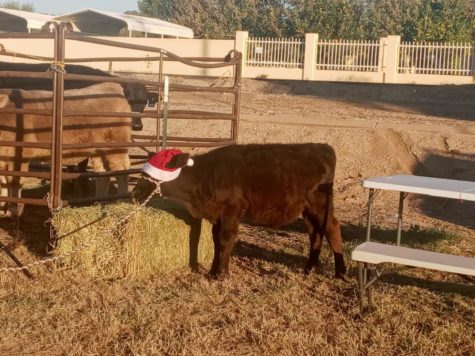 4H is a U.S.-based network of youth organizations whose mission is "engaging youth to reach their fullest potential while advancing the field of youth development". They extend their goals for increasing potential into things like sowing, gardening, metalworking, woodworking, and a department solely focused on raising and showing animals in competition. In this case, the competitions involving the animals can fall into two major groups, show, and best of the breed. 4H Show is a partnership between animal and handler, where the owner presents their animal to the judge and gets graded on the animal's behavior, overall presentation skills, and animal health and appearance. Best of the breed is mostly revolving around the physical attributes of the animal, as well as the grooming and care physical features that the animal has. 
There are no specific requirements to join 4H besides an interest in one of their groups, some time and effort, and a passion for self-improvement. 4H is known for being a fun place where like-minded people can connect with one another while exploring scholarship opportunities or mentorships. 
This year the Waddell Hoofprints 4H'ers gathered together and spread holiday cheer with some unique animals and, of course, cows in Santa hats. Around the holiday times, these groups band together and have a day of fun showing off their animals and posing for pictures. 
The cutest rainbow chicken, tiny baby chicks, and a trifecta of sheep, the softest rabbit, and cows were the main stars of the show and it shows. Despite the day being chilly the animals had a heartwarming effect.  With people lining up to take pictures with all the animals they had a day of fun and attention. 
Now in honor of the cuteness that is cows in Santa hats and animals in general please observe the following photos:
Leave a Comment