Verrado Winter Guard Program Starts Up Again
When you think about sports you probably don't think about spinning flags or rifles being thrown. People always assume it has to involve a ball or some type of one-on-one. Color Guard is competitive but a beautiful sport that performs with the band during our football season and during the winter. Venom Color Guard has performed for WGAZ, WCWG, and many more divisions, placing 2nd in the state last year and also placing first last year at their first competition during the fall.
Here at Verrado, our very own Color Guard, not only play during the fall but during Winter Guard, where it's just the Color Guard performing. Color Guard combines dance and gymnastics all while spinning things such as flags, rifles, sabers, and anything they're able to perform with. Winter Color Guard allows them to travel all over Arizona and see new things for competitions. They get to experience new things and enjoy it with each other. Although Color Guard looks entertaining a lot is put into the show and it can be a dangerous sport due to the fact that they are spinning heavy equipment while moving and spinning.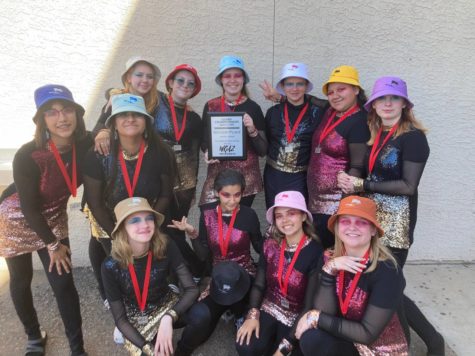 When attending one of their practices throughout the performance they had fantastic energy and great smiles. Ley Vazquez a member of the Verrado Color Guard says, "All the cool tricks and all the amazing friends I have and overall spending time with everyone here." Color Guard takes a lot of work into making a 5-minute show but even while they're working hard it's also a great time making memories with each other and enjoying themselves. 
Meghan Janeway has been a part of the Color Guard since 2014 and now she is their coach here at Verrado. She says, "I missed it and I physically wasn't able to perform anymore and it was the easiest way to do what I enjoy." So far Color Guard has been able to get to a higher division and has been able to succeed. This year they will be performing a show on two different emotions, one being uplifting and the other being depressing. Color Guard is extremely excited to perform their new show and the students are thrilled to see all their hard work pay off.