Saying Goodbye To Verrado's Librarian
For those who don't know already, one of the two school librarians, Mrs.Warren, will be leaving for Washington State this summer, where she will be taking up her second teacher librarian job. Despite Mrs.Warren's days at Verrado approaching an end, she will still leave a memorable impact on Verrado that will not be forgotten and will carry on how the library supports its students.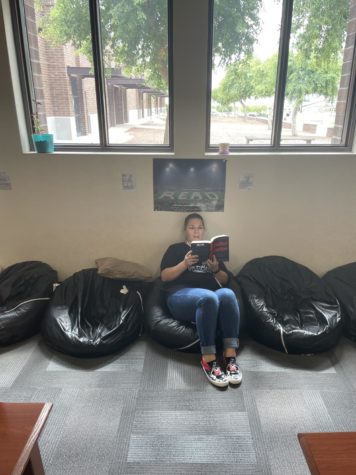 Typical librarians usually have a reputation for shushing students who talk loudly or yelling at anyone who brings food or drinks near their books. Although these assumptions may be accurate for other school librarians, it is contradictory to who our librarian is. 
Despite Mrs. Warren's knowledge of this reputation, she decided to take her next job in education as Verrado Highschool's librarian in the 2017-2018 school year.
Before working as a librarian for five years at Verrado, Mrs.Warren was an English teacher for six years. Going into the job five years ago, Mrs.Warren did not know a thing about being a school librarian.
Regardless, she still set out to do great things with the position she signed up for, starting with creating the librarian internship. The librarian internship is one of the many additions and enhancements Mrs.Warren has helped incorporate into the library.
According to Warren, a few other accomplishments while working at Verrado would be bringing the book fair to Verrado, connecting with kids and staff, receiving awards from the school, and seeing kids want to spend time in the library.
Throughout her years of helping anyone who walked in through the doors to the library for help with computer complications, book recommendations, or a sanctuary to eat lunch, Mrs.Warren has built the library's reputation of being a place where you are welcomed and acknowledged.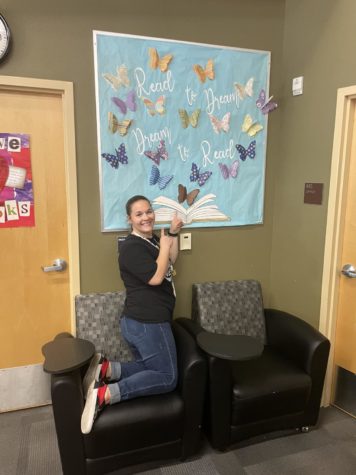 Not only is Warren good at book recommendations, but she is also talented at getting students involved with the library.
It is hard not to find the library an interactive location when you can piece together puzzles, build legos, eat lunch there, draw on giant-sized whiteboards, make poetry, observe the library as a museum and most of all, check out books. 
Mrs. Warrens's last departing statements for Verrado were that she loved her time here at Verrado, she will miss it and hopes to stay in contact with the many people that made connections with her within the time she has had here. Saying Goodbye to the librarian who has had such a big impact on the school is hard to do.
While this is true, and all the students who have gotten to know her will miss her, we know that she will do great things in the next chapter of her life.
Don't forget that the next time you pass by the library, say your farewells to Mrs.Warren.