Food is Good, Life is Good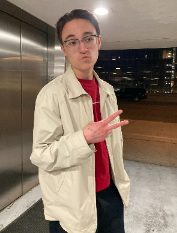 More stories from Logan Davidson
With a new school year comes a new lunch menu for students. This year Verrado parted ways with the post-pandemic free lunch system, so while lunch now comes with a small fee, it also comes with a few adjustments to the menu. Along with the usual Domino's pizza and peanut butter and jelly sandwiches, Verrado now provides the newly added slushies.
Today, the basic lunch for a student (one not on the reduced lunch program) is $3.25. While slightly more than $3 for a single meal may seem like a great price, take into consideration that this is the daily price for year-long lunching as well as the quality of the food. The various lines in the Verrado cafeteria serve chicken sandwiches (spicy and regular), cheeseburgers, Domino's pizza, Chick-Fil-A sandwiches, and a PB&J sandwich. While this may seem like a nice spread for school lunch, many students feel that the quality of this food is simply not that great. Aryana Garcia, a junior at Verrado High School, eats the school lunches every day. She explains students shouldn't be having to pay such high prices for low-quality food. She also discusses purchasing drinks with certain orders, saying "with the Chick-Fil-A, there are no drinks, so we have to pay even more for the drinks." Chick-Fil-A is served as just a sandwich, so students who may be thirsty would have to buy their drinks separately. Additionally, the new slushies also force students to fork out a couple more dollars if they want one. The cost of the Chick-Fil-A sandwiches is $5 at the outside lines, compared to the price of $3.05 at an actual Chick-Fil-A restaurant.
When it comes to the school's regular items, students have also run into some issues with the food served. Students Isabelle Diaz and Natalia Canaan both agreed that the food is "always cold" and "would be better if it was fresh." Both students ordered the pizza and tater tots option with milk. On the other hand, Canaan suggested improving the school's lunches. She mentioned the lack of variety in school lunches saying "it's always the same things over and over" but also said the school should look into "healthier options, more packaged stuff and less frozen stuff."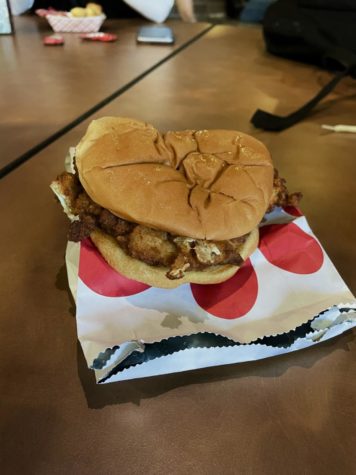 At Stevenson High School in Illinois, they offer a much larger selection including salad bars, soup bars, international sections, and even multiple vegetarian/vegan options. For a simple "comfort food" meal the cost is the same as a lunch at Verrado. However, a fancier choice, like the Meat Panini, for example, it costs $4.25. Additionally, a plate of sushi would be $4.00. So how is a seemingly much more expensive lunch buffet costing around the same price, if not a few dollars more, as the lunch prices at Verrado? Stevenson High School partnered with Sodexo School Services to provide students with these exciting meals for relatively low prices. So while the food at Verrado is still decent, the school may want to look into partnering with other food corporations to start a program similar to Stevenson's. The only thing is, students may have to pay a little extra to get these deluxe meals.
So while students at Verrado High School find the lunches to be tolerable, an upgrade might give them something to look forward to. Feeding hundreds of students is hard, but providing exciting and healthy options for these kids is also very important. After all, a healthy diet is part of a healthy mind.
Leave a Comment