Marching Band 2022 Comes to a Close
For the past three months, Viper Vanguard students have shown up after school to play instruments like the trumpet and saxophone, having worked tirelessly in the hallways and on the football field to present a show everyone will love. This year the show is titled "The Network" which follows the band through a virtual escape room and their challenges of finding human connection. The band had music specially created for their school, with a song that most people will recognize. They practice three times a week with performances once or twice a week to prepare them for the finals.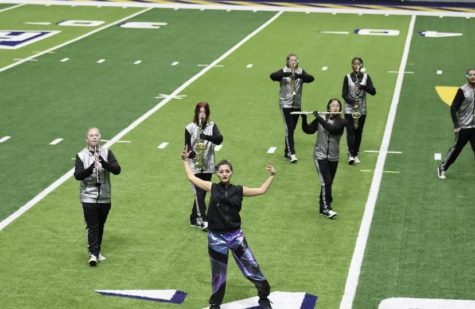 Viper Vanguard began its season at the beginning of July with its first band camp, where students begin to learn all the basics of a marching band. These kids work for hours a day, in the grueling Arizona summer,  perfecting their movements.  Marching band choreography must transfer over onto the field to have a good show. Then throughout the school week, students practice religiously three days a week with performances on Friday and Saturday. Everyone in the band works their hardest and continuously grows their love for this sport.
Isaiah Bowman plays the trumpet and is the Viper Vanguard's brass captain. He has been a part of this program for all four years of high school and explains how "the band is like a second family for him" and that he's met some of his "closest friends throughout this experience". Isaiah will be graduating this spring, and he says that these "four years of the band will stick" with him for the rest of his life and give him "so much passion for playing the trumpet". 
Recently, the Viper Vanguard performed at one of the biggest competitions in the state at NAU. This experience allowed the students to see some of the productions that other bands in their division were performing. The band performed the best they could and came in 5th in their division. Throughout the next couple of weeks they will be performing in the semi, and hopefully, the finals where they will compete against the best band in the state. The band is trying to finish this year off great, so come out and support the Viper Vanguard. 
Leave a Comment