Students Play A Big Role In Keeping Verrado High School Safe
Verrado Safety Recap
On Wednesday, Jan. 18, 2023, a student reported to security that they had seen a potential weapon on campus. Security and the student met with the assistant principals who immediately contacted Buckeye Police Department. Within minutes six officers arrived on campus, took the students to report, and went to review the camera footage with the school officials.
As they reviewed the footage, security, and staff saw three students in the area previously described, and staff worked with the six officers to secure the students and bring them into the front office. The school went through safety procedures and searched all three students and nothing dangerous was found, so Wednesday ended as a normal day of school.
The next day, Thursday, Jan. 19, the school security and officials went through to debrief the events of Wednesday.
Principal Showman stated, "Something didn't seem to be adding up for us. We had a student that was scared, terrified, and we weren't able to find anything".
Staff reviewed the video from different angles, then it was determined that there was another group of students in the same area, and in the video, they had seen what appeared to be a weapon being flashed in the air. Buckeye PD was contacted once again and shown the video.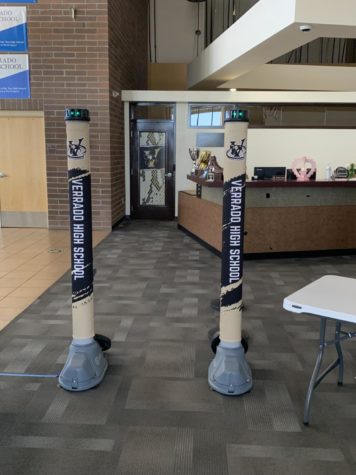 After the Police had arrived, Principal Showman went to get the student and brought them into the office to meet with the officers to be interviewed and searched. Finding nothing illegal on the student, they informed the student they would be searching their car, and after conducting the vehicle search, it was determined that the student had possession of a handgun and drugs. At that time, Buckeye PD handcuffed and detained the student before returning them to the front office.
From there, three more students were pulled from class to be searched and interviewed. While two of the students did not have anything, the third student had a vehicle on campus that contained a bulletproof vest, 7 bullets, and wads of cash. The school did what it needed before turning the students over to Buckeye PD.
Going into Thursday evening, social media traffic began to rise. Late Thursday night, Buckeye PD received reports of a potential online threat which led to 4-5 houses being immediately visited. The post circulated through multiple districts and campuses around the state throughout the year and was deemed not credible when it came to Verrado.
On Friday the 20th, the school began to interview students based on different stories they had been spreading, but all were ruled out. The school day on Friday had concluded, but threats were made.
Friday evening, a post with a specific threat toward Monday, January 23rd was made. Many parents and students began to send information pointing Principal Showman and Police to the social post which led to more investigations. The post was once again deemed uncredible as the student admitted to finding the picture online and only adding the message.
The Future Of Safety In Verrado: See Something, Say Something!
After the gun threats, many students and parents were shaken up and wondering what comes next to keep the campus safe. Verrado is HEAVILY encouraging students to hold each other accountable and report anything that might endanger their classmates, whether it be a sketchy post or a threatening comment, students at Verrado are told to tell any staff member.
The Viper Times recently got to sit down with Verrado's SRO David Ellison, security guard Craig Miller, vice principal Matt Lees, and principal Nathaniel Showman regarding the future of Verrado when it comes to safety.
When asked how we can feel more protected coming back to school, Officer Ellison said "Everybody who heard or saw something, reported it. As far as being comfortable returning, it's more of a reassurance of students' actions. Everything they (students) did was a reassurance to us and it helped us to conduct our investigation and hold people responsible".
Adding to that, security guard Craig Miller claimed, "We need to be a little bit more thoughtful about what we post, along with those around us so that we don't put everyone into a frenzy."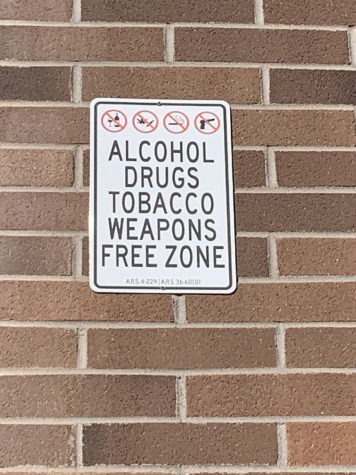 This refers to the spreading of social media posts that contained a threatening message toward Verrado. Within hours of the post originally being made, many students took screenshots and reposted the picture to their accounts. While many students may have thought that this was beneficial, it in fact could make things harder.
One of the biggest problems Verrado has faced is the spread of misinformation and disinformation.
Misinformation is false or inaccurate information and it's like messing up a date or time.
Disinformation is deliberately spreading false information that is intended to mislead or deceive someone.
One person in particular, Lisa Berry, is very familiar with this topic. Ms.Berry is a Public Information Officer for the Buckeye Police Department and is responsible for communicating with the public and media about incident-related information.
When asked how we can stop the spread of misinformation in our school, Lisa had this to say, "I think as PIOs, whether at school or the police station, We need to hit it head on and first say what we know, and then what's to come."
Recently, the Agua Fria High School District purchased weapons detectors for Verrado High School entrances becoming the first school in Arizona to install these devices. The remaining schools in the district are scheduled to get the detectors in the coming months. These have so far proven to be effective as security and students are beginning to adjust to them, and the district has made it known to the students and parents that these are simply weapons detectors and NOT metal detectors. Similar ones can be found in arenas and stadiums in the local area.
Along with the addition of the metal detectors, new security is also being added to campuses. We have already seen it at Verrado and will likely be seeing the same at other schools shortly. Security is responsible for patrolling the building throughout the day and being prepared to handle any incidents that may occur.
"
It's important to get information out promptly, but it is far more important that our information be accurate than fast.
— Lisa Berry
With these newly added safety protocols and procedures, and all the procedures to come, the key to school safety comes from students. Verrado looks to become the safest it's ever been, and help from the students is heavily encouraged and needed. If you see something, say something.