Verrado Track Season Begins
Track season is officially underway, and it looks to be a very promising season. Many coaches are involved including long-distance coaches, mid-distance coaches, and sprint coaches. Field events will have throwing and jumping coaches.
On the first day, students gathered in the stands to meet and discuss what is going to be happening for the next two weeks.
In the first practice, sprinters were working on their starts, they did one 40-meter dash by themself, two 40-meter dashes with a partner, and two 40-meter dashes in a group of three. They then proceeded to do their ab workouts and for the first day, coaches went easy on all runners with only 65 abdomen workouts.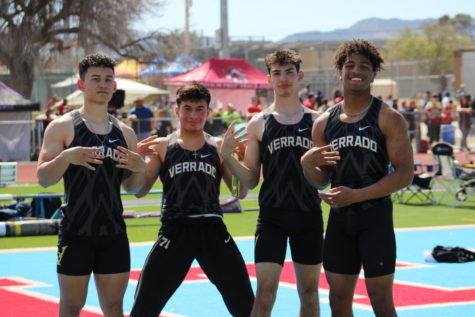 The first track meet was on February 25, 2023, and Coach Salem says, "Honestly, I expect them to perform awesomely. The expectation that coaches have set for our kids is to go out there and run their race. We're not asking them to break records or anything like that, we're asking just to set a bar, to go out there and run their race with no fear. As long as students are out there giving their 100% during every race coaches will be happy. The first meet is not to beat anybody, but to set a standard for yourself to beat in the next upcoming meets."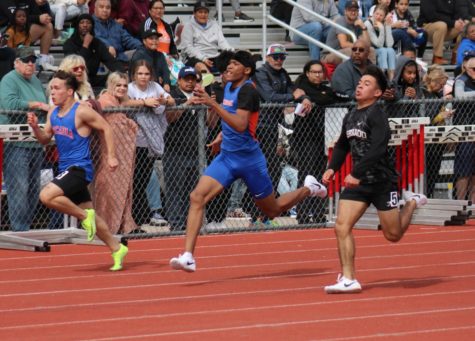 The next question Coach Salem was asked was if there were any trends he is noticing with the team, his response was, "There are a few trends. I'm noticing that some of the athletes tend to like to wait until the end of the pack to try and run, and I keep telling them if they're doing that, it's because they don't want to be seen, and the worst time to run is at the end when everybody else is done and able focus on running, so athletes should try and get it done quickly so they are not in the spotlight."
Lastly, Coach Salem was asked how he is picking out the athletes that are performing this Saturday. In his response, he states, "Basically, we are formulating a list of timed events that we already have, and what were going to do is separate them. We're gonna get the fastest of the groups, then one that's in the middle of the pack and then we also try and get someone that's a little bit lower in the pack as far as their times, we're trying to mix it up so that we can see as many people as possible. As far as our relays go, we mix our relays up just a little bit, just to actually get people out there so they can experience and see what the track really looks like."
Coaches are focused on getting everybody out there and getting everybody seen. If you have never run track before and you are looking for ways to get better, make friends with vets, and improve your health, they will help you and athletes will learn so much when it comes firsthand from somebody on the track running with you.
"
Don't worry about who you're running against, don't worry about how fast the next person is. Step on that track and every day try and at least get 1% better, and you will continue to become a better runner then you'll also become faster, throw further, and jump higher.
— Coach Salem
Leave a Comment