What Will Become Of The Arizona Education System?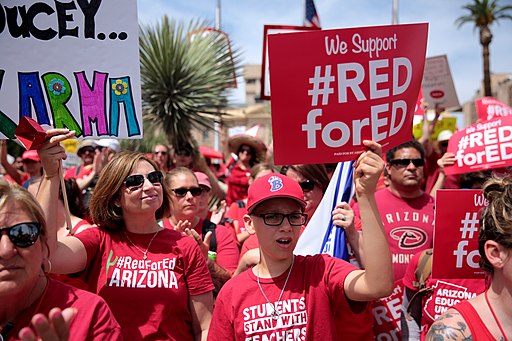 Essential staff members of the Los Angeles Unified School District rallied together in protest against their unlivable wages. Custodians, cafeteria workers, bus drivers, and teaching assistants walked out, striking for 3 days in rainy weather, hoping to improve their working conditions and raise their annual wages. Joined by the teachers' union, the protesting employees' strikes eventually temporarily closed the schools of LA, interrupting the everyday lives of 420,000 students apart of the nation's second largest school district. Meal plans were halted, and working parents were forced to find last-minute care for their children who would typically be in the schools' care.
It seems as though every year, teachers go on strike protesting their unlivable wages and unfair working conditions. The education strike in LA might have sparked feelings of sympathy and support in thousands of Arizona teachers as they reminisce on their own efforts in the #RedForEd strike of 2018, where teachers protested to increase their salaries, in addition to public education funding. Although Arizona teachers were successful in their protests at the time, earning themselves raises by 20% and increasing the public education budget, many continue to struggle to make ends meet today.
Inflation and economic crisis have greatly impacted the lives of millions of people living in the United States. In fact, Phoenix, along with Miami, Seattle, and Philadelphia, has been hit the hardest by economic inflation. As of December 2022, Phoenix had a 9.5% increase in prices over the course of 1 year. These ridiculously high prices drive many Arizona teachers to either find a new (or second) job or sacrifice basic necessities to survive. In fact, as of 2020, 34,661 qualified and certified teachers in the state are not currently employed as educators. Simply put, Arizonan teachers have no desire to invest in a hands-on career when they are not sufficiently compensated for their efforts.
As a result, Arizona is met with a significant shortage of teachers in the state. According to the Arizona Teacher Workforce, as of 2020, 1/20 classrooms in the state of Arizona have been affected by the lack of teachers. The standard for who qualifies as a teacher today has drastically decreased from the previous years. In 2022, Governor Doug Ducey signed a law stating that Arizona teachers are no longer required to have a degree in education to work at a public school, instead, they must be enrolled in college. The quality of Arizona public education is plummeting downhill, and many predict that Arizonan teachers might protest in the same manner that the LA teachers have. Unlivable wages and unqualified coworkers might drive quality teachers to leave what seems to be a lost cause and find a new career path, leaving students unprepared and helpless.
What can be done to prevent this from happening? Taking action by writing to the legislature and supporting charities that fund public education can make a difference in this suffocating situation. Hold our elected officials accountable, for the future of Arizona's children should not be abandoned. '
Leave a Comment