Students Suggest Improvements That Verrado Could Implement
During the home stretch of the 2022-2023 school year, students are fueled with excitement for summer and finally getting out of school. However, when this year's summer draws to a close and students are welcomed back into the halls of Verrado High School for another year of learning change will be on the horizon and it all starts with Mrs.Studts English Three class.
For her 2022-23 final, Mrs.Studts gave her students the challenging task of finding something in the school that could be improved or added to make Verrado a more enjoyable experience for its students and teachers. For anyone reading, here are what the five groups of students have proposed to some of the school's administration, and the student body may expect to see some of these improvements in the not-so-distant future.
Students were surprised at their audience for their presentations with Verrado's Principal, Mr. Nate Showman, and District Curriculum Specialists Mrs. Micaella Butterfield, and Ms. Haley Walker.
Ms. Walker loved the data connections the students made in their projects. "Polling classmates is a great idea especially when you add it to the presentation. It's good to know 75% of students want a coffee shop."
Verrado's own Jazzman's Coffee Shop
Sodexo, Verrado's main food provider, has a less well-known service that we here hope to take advantage of soon. It is a business that they happen to own called Jazzman's,  a coffee shop/bakery cafe that serves coffee, smoothies, and pastries to students on campus. So far plans for this extend to being open before school, during lunch, and after school for an early morning wake-up call and an after-school pick-me-up. With refreshing drinks and mouthwateringly delicious pastries in the near future, make sure to keep on the lookout for future updates on a Jazzman's at the Verrado campus.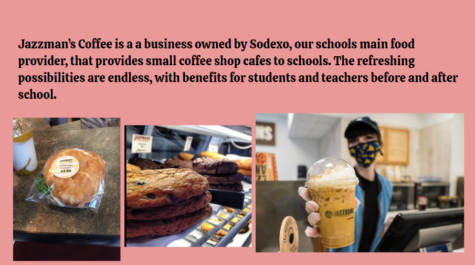 A Culinary Program 
Cooking isn't just popping a bowl of mac and cheese from yesterday in the microwave and reheating it, cooking is an important life skill that can improve health and confidence in the long road after high school. That is why students at Verrado are attempting to create a culinary program that teaches students how to cook and handle food properly in the kitchen and how to make delicious food for themselves. This could give students an opportunity to find a hobby or even a career in the culinary arts and prevent possible food poisoning long after it is over. 
School Lunches 
Think about the current lunch you see kids toting around, stale tater-tots, greasy pizza, over-cooked rice, and the occasional and highly lauded fruit salad. Loud are the complaints about the bland food and the lack of alternative meals provided during the school lunch period. There are very valid reasons to want to change the school food system, both because of the waste Verrado generates and the students. This new lunch program would bring freshly rolled sushi, organic salads, warm soups, cheesy noodles, and genuine pizza that is made right there and then as you order. 
Freshman Mentorship Program
Imagine, it's the first week of school, and that terribly sudden and horrifying sound ruptures the peace and quiet of class. The fire alarm has gone off. After walking all the way out to the baseball field and coming in, having to rush to your second hour to not be counted late the day couldn't get any worse. Well, it does, because apparently two of the freshmen have a long-standing grudge and decided the perfect place to, very loudly, discuss this is in the lunch line. Now instead of grumbling to your friends about how this is the fifth time this has happened perhaps sign up as a mentor for the FMP. The Freshman Mentorship Program gets them early and engages them in the order of things at high school. It gets freshmen integrated, building the community and passing goodwill to those in need. No more incidents that could have been avoided, instead Freshmen would experience a whole class dedicated to introducing well-rounded students to clubs and ways to express themselves instead of causing trouble for the stressed upperclassmen and overworked teachers. 
"
Cooking isn't just popping a bowl of mac and cheese from yesterday in the microwave and reheating it.
Mr. Showman expressed that he "loved the concept of a Freshman Mentorship program."  He thought it "would be great to get students more engaged and connected to each other" early on in the school year.
Ms. Walker added "The students had great ideas for this program including peer tutoring and a grade check-in" that would keep students on track academically during the year.
Mrs. Butterfield also liked that concept and wanted the students to dig deeper. "Define what the class would look like and be sure you engage students across a lot of interest levels."
Weight Room Rehab 
Broken equipment is dangerous, especially when that equipment is 45 pounds of pure steel. The gymnasium has a problem and it's that we are about 5 years out of date. Student-athletes as well as people who enjoy working out for stress relief have been put in the position of safety versus doing what they need to in order to enjoy themselves. This is why the new plans for the weight room include new weights, turf grass, new machines, and better safety for the people using the workout rooms. There are tentative plans to have the weight room available after school as well. 
Heavenly Decker, one of the Juniors in class stated, "I really like how we got to choose our topic. It's important to give students an opportunity and voice at school. I really like being able to define our own problem and solution and then present to people who can do something about it."
Alexis Figueroa added to that: "I've never had an opportunity to talk with Mr. Showman. It was really great to have him here to listen to our ideas."
While none of these things are set in stone the students in English Three are working hard to make it happen. Verrado is already such a great place with a community environment that is cohesive and well-loved, these things would just enhance it even more. So look out for updates, who knows anything is possible with enough effort?