To begin the season, the Arizona Diamondbacks were one of the hottest teams in the National League and were being noted as one of the greatest teams in the MLB, but since early July, the Dbacks have been losing a lot more games than winning them. Now people are wondering, what's happening with the Diamondbacks? Is it just plainly bad luck, or is it a horrible play? Maybe it's managing decisions or a mix of everything.
Since the All-Star break, the Dbacks as a team were hitting .238 and had an OPS (On Base Percentage + Slugging) of .686. Comparing that with the first half of the season, the batting average was .258 and the OPS was .754 which may not seem like much of a difference at first glance, but when you see the way they've been performing, it's clear as day how much of a difference -.20 points off of batting average can be, but now as of recently, the Dbacks snapped an awful 9 game losing streak and it seems like they're starting to regain traction once again as they now have a team batting average of .245 and a team OPS of .718. A few of the people who have been notably improving since are All-Star outfielder Lourdes Gurriel Jr. who has posted a .345 BA in his last 15 games, Christian Walker whose batting average is .362 in the last 15 games and has hit 4 home runs in his last 3 games. Meanwhile, Carson Kelly, who has underperformed all season, has now been Designated For Assignment with the activation of Catcher Gabriel Moreno off the 15-day IL, and in another move outfielder Kyle Lewis, who has been scorching hot, has been called up from Triple-A Reno and outfielder Jake McCarthy has been sent down. Additionally, newly acquired players Jace Peterson and Tommy Pham were added to have more right-handed hitter depth and veteran leadership, Pham is hitting .244 since the All-Star break, but Peterson is hitting a depressing .200.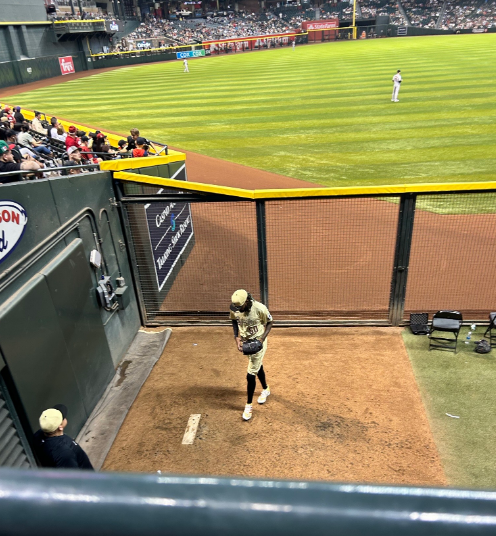 On the pitching side of things, Brandon Pfaadt has seemed to settle in easier thanks to a few minor, but helpful pitching tweaks made by pitching coach Brent Strom. This was mostly noticeable during the 1-0 loss against the San Francisco Giants on the third of August. On the other hand, Tommy Henry and Ryne Nelson have also not been able to execute properly as they've posted ERA's of 6.32 and 6.14, Ryne Nelson has since been sent down to Reno, and Tommy Henry has landed on the IL.
But even if the Dbacks are just one game over .500, should we completely give up on the season? Not at all, there's a whole month and a half of baseball games left to be played and the Diamondbacks are only a game and a half out of the Wild Card race. Although the Diamondbacks do have one of the toughest second-half schedules, there are some other teams who haven't been doing so hot like the Reds, Yankees, Mets, and Astros. But if you want to beat teams like the Dodgers, Cubs, Orioles, and the Giants, the most important keys to win those games are consistency, and not trying to be the hero of the game. Just putting wood on the ball. They have the talent to beat contenders like them, we've seen it before with the 16-13 win against Atlanta. But if you want to win, you're going to need to drive home runners in scoring position, and the way we do that is simply by putting the bat on the ball and not trying to hit a home run each plate appearance.
Another unique factor that's used is something quite a few teams don't have much of, speed. A few speedsters on the team include rookie sensation Corbin Carroll, CF Alek Thomas, and RF Jake McCarthy who have a combined 68 stolen bases. Using that speed to their advantage makes pitchers more uncomfortable in certain situations which could cause them to mess up and accidentally balk. We've seen it happen quite a few times this season and it's worked out in some cases, and if the Diamondbacks can mold everything together and get this entire team out of their skid back up 15 games above .500, and return your pitching to the way it was in the first half and stay consistent at it, they have a legitimate chance at winning the entire thing and doing it again the next year and the year after that. After all, the Diamondbacks do have one of the best farm systems in the league, and who knows, maybe we won't win this year. On the bright side, we'll have guys like Ivan Melendez, Jordan Lawlar, and second-overall pick Druw Jones to look forward to in order to help us get that one last little push we need. The future is bright in the Valley, and it's only a matter of time before Arizona are
champions once again.