Viper alumni and switch-hitting sensation Blake Perkins has hit Brewer headlines over the last few months, recording his first major league hit, home run, and walk-off all in a span of about 4 months dating back to his major league debut.
Perkins, a Litchfield Park and Arizona-born outfielder for the Milwaukee Brewers continues to impress, knocking down milestones left and right in hopes of propelling his team to a division crown and a chance at the 3rd seed in the National League.
Stephanie Sellers, a former Verrado High School English teacher states that Perkins was "an extremely polite and respectful student. He was meticulous about his classwork paying attention to even the smallest of details. I would go as far as to say he was a perfectionist but in a good way".
In just his first official season, Perkins is batting .212 with a pair of home runs and 16 RBIs in a total of 56 games played. Certainly not bad for a kid seeing big league pitching for the first time.
Perkins has also delivered heavily on the base path, scoring a total of 21 runs and recording more than 15 walks while also being called upon to pinch-run from time to time.
However, his major contributions have come from times when his Brewers were behind the 8-ball and in desperate need of a base hit. One of those scenarios ironically happened during the big league debut of Sal Freclick, one of team Italy's breakout stars during the World Baseball Classic and now an established player in Brewer's organization.
In the game, the Brewers were down 3 runs in the bottom half of the 5th against a team that has hit more home runs than any other ball club in 2023, the Atlanta Braves. Despite this mountain to climb, Blake Perkins managed to follow up Brice Turang's sacrifice fly to deep center field with a line shot past 2nd base and into right field, scoring teammate Owen Miller to cut the deficit to one run.
Perkins not only gave Milwaukee a ton of momentum moving forward in the game but he also paved the way for Sal Frelick to cap off his unforgettable MLB debut with an RBI that tied the game in the 6th and eventually an RBI deep into the 8th which ended up winning the Brewers the game. Talk about an unsung hero.
Current Social Studies and AP Government teacher Erin Eisen states "I'm not at all surprised that he made it to the big leagues. He was a great student-athlete. What I remember most about him was that he was so humble and disciplined. He produced great work, but was receptive too and implemented constructive criticisms. What made him stand out as a student was how organized he was".
Another instance of Blake Perkins contributing when his team needed him most came a little over two weeks ago when his Brewers were squaring off against a declining Pittsburgh Pirates squad fresh off an off day.
With the Brewers down 2-1 in the bottom of the 9th, former pirate Carlos Santana got aboard with a single to open up the inning, allowing the opportunity for Brewers manager Craig Counsell to call up Perkins to pinch-run for the 37-year-old 1st baseman.
On the next at-bat, Perkins caught the Pirates napping and somehow tagged up and advanced from 1st base to 2nd on a routine flyout to right field, putting himself in scoring position for fellow outfielder Sal Frelick. With a little help from a wild pitch, Frelick soon delivered a base hit to score Perkins from 3rd, thrillingly tying the game late in the 9th.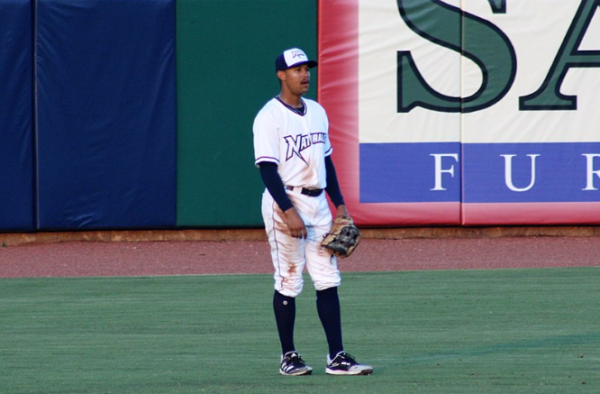 Milwaukee followed up their late-inning tie with a scoreless half-inning from the pitching staff, advancing the game into the bottom of the 10th, where Perkins would solidify himself amongst his Brew Crew teammates.
With the game on the line, the Brewers called upon their switch-hitting stud to pinch-hit in a crucial spot, bases loaded with two outs.
Perkins worked the count to two balls and a strike before serving up a 92 MPH fastball off the hand of southpaw reliever Angel Perdomo and into the right field grass for a game-winning single. As he rounded first, Perkins was mobbed by his fellow teammates including 2-time NL MVP Christian Yelich, star shortstop Willy Adames, and established big league veteran Brian Anderson.
To say the least, it was a script-like ending to an outstanding game, all courtesy of the Litchfield Park and Verrado Baseball product, Blake Perkins.
Perkins and his Brewers currently sit atop of the NL Central, ahead of their division rivals by about 3.5 games. As they continue to hold onto the 3rd seed of the National League, the least we could do as Verrado Vipers is cheer on this team with hopes that they can make some loud noise come postseason time.
Whether you're a Brewers fan or not, it's extremely hard to root against the MLB player who may have sat in the same exact classroom you're currently sitting in.