Arts Showcase for the Community
The Agua Fria Union High School District Arts Showcase was a success. Students from all five schools in the Fine Arts department of the district participated in this event to show their love and passion for different mediums of art. There were multiple parts to the showcase. First, a gallery displaying 2D art from all five schools and art classes from the district gave visitors an insight into the artists' heads by being able to admire paintings and sketches from different students. In another room, you could find the 3D art gallery displaying various ceramics pieces and sculptures. In the auditorium, visitors enjoyed different performances varying from acting skits, to dance and choir performances. Finally, the main gym was filled with the sound of music as the school bands made their performances.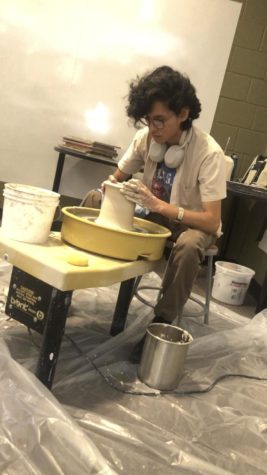 During the showcase, we had the opportunity of speaking with different clubs and organizations within the district. We spoke to the Jags Theater Company from Canyon View High School and asked them why they had chosen acting as their medium of art. "I found it fun. It is a great way to meet people and connect. I just wanted to express that all the aspects of art such as dance, singing, comedy, and acting combine those properties very well. I love seeing the face of the audience when we act." Said Nixon, a member of the Theater Company of Canyon View High School.
While exploring the 2D art gallery, we stumbled upon Verrado High School's Art Club president Benjamin Ma and asked him about the showcase, "I think art is expressive. And though some can express art through their motions, like theater and dance, we express ourselves through our 2D mediums." 
The 3D gallery was certainly a place for relaxation and admiration. The room was decorated with ceramic sculptures made by students during their classes, every sculpture contained a different story. "Overall, the 3D artwork being able to be separated from the 2D made the three-dimensional artwork able to stand out more on its own," said Mr. Brown, an art teacher at Verrado High School.
Families gathered around all morning to enjoy the showcase. Everyone's favorite was the presentation in the Auditorium which included dance, theater, and choir performances. They also filled the Main Gym to seek enjoyment in music from the band. 
"The reason why I chose music as my creative outlet and form of art was that… I wanted to expand my already existing musical creativity, leading me to choose Band class" said Ethan Smith, a member of the Verrado High School Drum Line. 
This year's Art Showcase was filled with laughter, music, and overall fun. The community was delighted to attend and many families attended as a way to bond and become closer. Congratulations to the Agua Fria Union High School District and all the schools within it, as well as the students who participated.                                                                                                                                                                                                                                                                                                                                                                                                                                                                                   
Leave a Comment