Letter Of Intent Signing Day
Letter of intent signing days is important for schools and communities because they often represent a milestone in the lives of student-athletes who have worked hard to achieve their goals. These signing days involve high school athletes who have committed to playing sports at the collegiate level.
Mr. Maier, Assistant Principal and Verrado's Athletic Director said this about our student-athletes, "The Letter of Intent Signing Ceremony is a great opportunity to recognize our student-athletes that will be playing their respective sport at the next level. It is important to celebrate this accomplishment because these student-athletes have worked tremendously hard to grow in their athleticism and character during their time involved in our programs."
For the student-athletes themselves, signing days can be a moment of great pride and accomplishment, as they are officially committing to continuing their athletic careers at the next level. It can also be a time to recognize and celebrate their hard work and dedication.
Mr. Maier continued about the ceremony, "Each year, we strive to make this event the best it can be to honor the efforts of both the student-athlete and their family on their journey to get an athletic offer from a college or university. We are proud to offer this opportunity for student-athletes to sign their letter of intent, hear well-wishes from their coach, and be surrounded by family and friends."
Verrado held its ceremony on April 10th, 2023. All athletes had their table to sit at and went up to the center table when called on to have coaches speak on their behalf before signing. Each coach had thoughtful and meaningful things to talk about and share with the rest of the attendees in the audience. After the coaches spoke, the athletes signed their letters of intent. There were different athletes for multiple different sports, and on behalf of the whole community, we would like to congratulate the following athletes:
Softball
-Lauren Thrasher, committed to Glendale Community College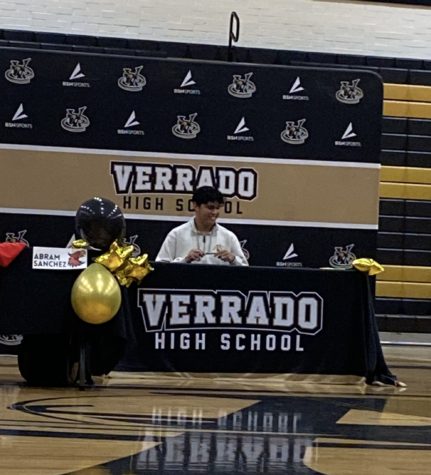 -Paige Ginsberg, committed to Glendale Community College
-Hayden McGuire, committed to Yavapai Community Collee-Kyria Butcher, committed to Salem University
Football
-Colin Tibbs, committed to Northern Arizona University
-Erick Santiago, committed to Austin College
Girls Volleyball
-Journey Tucker, committed to the University Of Arizona
Coach Lopez indicated what made Journey so special, "Dealing with adversity towards health and ending up coming back and overcoming that, she improved a lot even though she was dealing with some injuries and what made her special is how she progressed, becoming one of the top players in the region and state"
When asked why she should play at the next level, Coach Lopez said "Her height obviously, as well as her skill level. She's still developing and once she develops more of the skills for volleyball she will max her potential"
Coach Lopez had this to say on Journey's future, "I think she'll have to make some adjustments because the level of play is pretty competitive, but once she's comfortable and confident she'll be great. I believe she'll really grow and develop as a player"
-Zaria Hakeem, committed to Chandler Community College
Boys Volleyball
-Garren Garcia, committed to Alderson Broaddus College
When asked what makes Garren special, Coach Lopez said "His skill and his ability to be coached and his attitude along with his work ethic, he was voted defensive player of the region and we're awaiting for state results" 
Garren will be a good fit at the next level because "He has tremendous skills as a passer, setter, and he's very versatile. Once he fits into the specific role he'll do very well."
In terms of success, Coach Lopez had this to say about Garren. "I think he has the opportunity to still improve and learn at the next level. It's a lot faster, but down the road, he'll develop as a player and enjoy playing at that level."
Girls Basketball
-Lowegyn Hearn, committed to Kansas Wesleyan University
Cross Country
-Robert Rivera, committed to Estrella Mountain Community College
-Davin Lavery, committed to Estrella Mountain Community College
Wrestling
-Abram Sanchez, committed to Arizona Christian University