Dear Verrado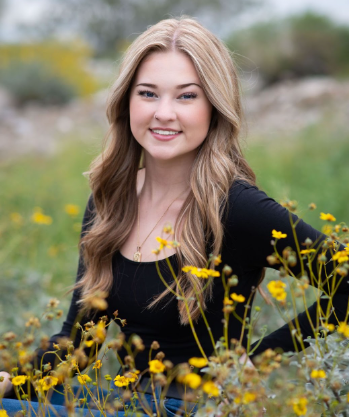 This article appears courtesy of Delaney Oppedahl.
At the beginning of August 2019, I entered the Verrado High School doors for the first time as a student. I was so nervous but so excited to begin the next chapter. I remember thinking the seniors were so big and it's still so crazy to me that I now am one. Over the years I've built so many amazing bonds with teachers and staff. I've also made so many friendships that I will cherish forever. 
Despite all the good aspects, high school has not always been easy. I've faced so many challenges but with that, I've overcome them. It has challenged my ability to stay motivated and maintain many responsibilities. Toward the end of my freshman year, COVID hit. It was hard converting to online classes and not being able to see my friends every day, but it was even more challenging to stay focused on school. After seeing my grades decline, I realized I needed to snap out of the slump quarantine put me in. I immediately bounced back and did everything I could to make up assignments and seek extra credit. The pandemic put me and others in a sad, isolated state. Unfortunately, most of my sophomore year was taken by the pandemic as well, but I still maintained my grades and academic responsibilities even when I thought I couldn't. When we were finally allowed back in the classroom, I was so excited. Going through the pandemic made me realize I needed to stop taking things for granted and make more memories. So that's exactly what I did. 
Going into my junior year, I told myself I was going to make the most out of my last two years. I went to football games, dances, concerts, etc. It was the last two years I got to be a kid. I went out with friends nearly every night, stayed up late doing homework, traveled with my friends and family, and so much more. Now, I'm in the last month of my high school career and I will cherish every moment. High school has taught me so much, not just education-wise. I have learned so many lessons from broken friendships, staying motivated, to failed assignments, etc. I will miss the infinite joy I felt at homecomings, the laughs I had with my friends at football games, and even the stress of getting all my AP psychology flashcards done in time for our exams. Although, I cannot express how relieving it is to know that I did it. I am so excited to start my future. Those four years were worth every second. 
My advice to you, as you begin your journey at Verrado High School, is to cherish EVERYTHING. Join a club, play a sport, enjoy your classes, make new friends, and most importantly be YOU. When they say high school goes by fast, they mean it. They are also going to be the best days of your life. So take it from me, don't take anything for granted! Make it last while you still can 🙂

Delaney Oppedahl