At Verrado, many murals are placed throughout the school, but specifically in E-wing. They were all done by students and some staff here at Verrado High School throughout the years Verrado has been open. These murals have brought and continue to bring color and life to this school.
In E-wing, the walls are filled with unique and exciting murals ranging from very big to very small, as well as ones that were painted in different color schemes. These paintings bring life and color back into the school, there have been many people who will stop and either take a picture of a mural or admire it as they walk to their class.
The difference between the E-wing and the other wings including the A-wing, B-wing, C-wing, and D-wing is an insane difference. All four of the other wings here at Verrado are painted this very ugly beige and there is no sense of color or uniqueness to these other wings.
According to Rio Brown, a senior here at Verrado High School, "Our classrooms are definitely harder to be in with less decor, especially with the blank beige walls. Art around us enriches imagination and allows us to look at something that looks beautiful."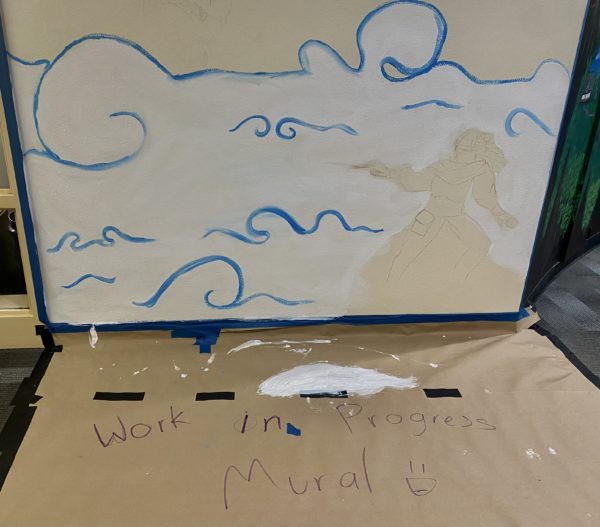 Rio also states in the interview "Painting the mural outside of the E-wing doors was a genuinely fun experience. Being able to collaborate with fellow artists and learning how to coordinate a team and create large pieces is a beneficial skill. It only took us around 4 days of 5-6 hour work days."
Rio did a very recent mural just outside the E-wing door with some other students and even Mr.Brown, one of our art teachers here at Verrado High School, helped with painting this massive mural just outside of E-wing.
During an interview with Mr.Brown, an art teacher who has been here at Verrado for the last 4 years, he claims "Color on walls can enrich the learning process. Choosing the right color scheme that is both invigorating to learning while not overstimulating can be a challenge, but it is doable."
Mr. Brown's classroom is located in the back of the E-wing in room E14. When asked if Mr. Brown feels a significant difference when he walks through the E-wing and then into other wings, he states "Yes, but in some sense, it also has to do with classrooms needing a refresh in the paint, even a nice white will brighten a room, the other aesthetics of the room also play a big role, as does proper lighting."
When this journalist came to Open House here at Verrado to get a tour of the school and meet her teachers in 2020, she and her parents walked through E-wing last and immediately felt a significant difference in the way the wing was set up but also the difference in the color and vibrant artwork.