Review of Apple AirPods Max
More stories from Angelina Cabrera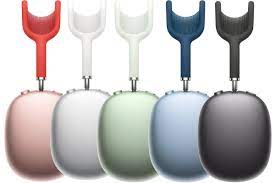 Back in December 2020, Apple released their long-awaited over-the-head headphones, the AirPods max.  With high expectations and prices, these headphones were anticipated to be one of Apple's best products yet.  In November of 2021,  almost a year later, I made the decision to purchase these headphones.  Today I'm here to give my honest opinion of the headphones and whether or not I think they are worth the purchase.  
Coming in 5 different colors including sky blue, space gray, silver, pink, and green, I decided to go with green.  The first thing I noticed about the headphones was their simplistic design and the soft matte color they were.  The headphones themselves were a fragile yet hefty titanium metal that came with a comfortable knit headband along with two knit ear cushions, providing a breathable yet strong sound and fit.  Although these materials were heavy and seemingly durable, one thing I noticed was that both parts of the headphones were extremely fragile and susceptible to tears and scratches.  And while they did come with a case to protect both headphones, this leaves the mesh headband vulnerable and susceptible to rips and other damage.  Attached to the sides of the headband, there are two metal bars connecting the headphone to the band. These bars are used to adjust the size of the headphones to a comfortable fit custom to anyone who uses it.  On the right side of the headphone, there are two buttons.  One button is used to release the headphone from either active noise canceling mode or transparency mode.  The other button is used to adjust volume, play or pause music, skip or go back to songs, and to answer phone calls.  Both these buttons are very useful especially when you don't have your phone near you.  They provide precise adjustments to your music and are a step up from the original AirPods, in my opinion.  
As far as performance goes, these headphones exceeded my expectations.  The noise-canceling capability was the most enticing feature to me as I was going through with my purchase.  While I did have some doubts about their capability to fully cancel out all of the noise in the background,  after trying it for the first time and truly being immersed in the sound that the headphones provide, I was blown away.  In comparison to other noise-canceling headphones I have tried in the past, the AirPods Max are the only ones I have used that can transfer back and forth from transparency mode to noise-canceling mode.  This is far more convenient than your average noise-canceling headphones because it gives you the option to be able to hear your surroundings or drown them out.  Apple also did a great job at an upfront user-friendly design.  These headphones were very easy to connect to my phone and were also very easy to navigate when first using the buttons and adjustments the headphones had to offer.  One thing that I would have liked to see on the headphones was a power button.  The headphones came with a case that when the headphones are put into, sends them into sleep mode.  Other than that, if you leave your headphones out without being in this case, they can evidently end up dying.  Personally, I feel that if they were to have a power button instead, their battery life would last a lot longer.  But, this isn't to say that the battery life it already has isn't good.  When I'm up late doing homework and studying, these headphones last for hours on end.  Frankly, there aren't very many things I would change about these headphones performance wise.  
  Taking all this into consideration it's safe to say that the headphones were definitely worth the purchase.  They provide many things that other headphones simply just can't.  From their simplistic design to their outstanding noise-canceling capabilities, these headphones are one of the best on the market.  
View Comments (2)