Viper Vanguard Goes To Disneyland
On April 16th, the Verrado High School Viper Vanguard went on their annual trip to Anaheim, California, for a soundtrack session at Disneyland. The band was taught how soundtracks are made for different movies and what it's like to be a part of it. 
Tracy Meldrum, Verrado's band director, explained, "[The soundtrack session] gives [the kids] a very real-world experience on what being a studio musician feels like." 
It was a very educational experience that helped pique the interest of the individuals who plan to pursue music as a career.
The instructor for the soundtrack session was none other than Amy Bowers, an extremely talented musician who has performed in several symphony orchestras and festivals, including ones in Germany, Italy, Japan, and Spain. She has also performed with many celebrities, including Kanye West and Seth MacFarlane. 
In the studio, the entire setup appeared professional. All the music chairs in an arc, fancy Disney music folders on the stands, and headphones for the click tracks. Of course, they weren't recording for a movie's score, but the atmosphere provided the illusion that they were. A common phrase in music, sight reading, refers to playing music from a first glance at a piece.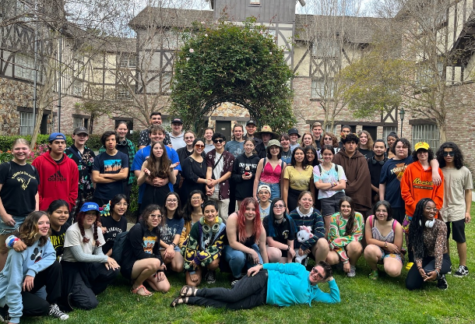 During soundtrack sessions, musicians need to be able to sight-read music on the spot. The music that makes it into the final cut would be the second or third take, the exact amount of takes the VHS band was given on many songs. The songs they performed included Simba's Ascent, a powerful song, Flight to Wakanda, a piece filled with intensity, and the well-known Disney theme song. 
After playing several songs, a Disney staff member told the Viper Vanguard the history of music being incorporated into films. In very early movies, instruments would play to match the actions on screen, such as bass drum hits during a volcanic eruption or chromatic piano playing when one ascends or descends a staircase. In more recent movies, a score gets created to match the energy and emotion of the scene. 
This year's band trip was an enjoyable experience for all band members. Future band members have even more to look forward to, such as the 2025 week-long trip to Paris.
"If you want to get on board and join band, talk with your counselors immediately to get into band next year so that you can start training to be a valuable ensemble member as we travel to other parts of the world," Meldrum explained.
Even after graduation, students can join the trip as alumni if they already have prior experience in the Viper Vanguard. The band will be visiting multiple landmarks in France including Disneyland Paris.